MARINE BOMBING SQUADRON SIX-THIRTEEN ASSOCIATION
45 Verano Loop
Santa Fe, NM 87508-3151
(505) 466-6549

3 October 2006
Memo To: All The Tired Vacationers
Members have been letting me know that they have received the initial release of information relative to the Year 2006 Reunion which will be held in Chattanooga, TN at the Choo-Choo Holiday Inn Complex from Wednesday, October 18, 2006 through Saturday October 21, 2006 with Check Out on October 22, 2006.
REMEMBER
Reservations should be made as early as possible. Be sure to book for every night you will be there. Make R\reservations by September 15, 2006 (the Inn will endeavor to make reservations after this date on a space available basis). Remember to call the Reunion Reservations Desk at: 1-800-872-2529 and identify yourself as a member of Marine Bombing Squadron 613. Unless you are there it will not be complete.
For those members who have access to the Internet, the Reunion information is also available on our website.
All family members in addition to the squadron members are welcome to attend the reunion.
We have already received Squadron Reunion Registration affirmation from the following members:
| | | |
| --- | --- | --- |
| Vern Beggs & Family | D.C. Clay | Charles F. Knapp |
| Randy & Roberta Clow | George & Doris McDearmon | Foster & Doris Cummings |
| Alan & Jane Protheroe | Dottie Evans | Robert & Helen Polakowski |
| RL and Alice Marx | Bernice Rudewick | Norbert and Betty Gibbs |
| Robert Klinke & Family | Calvin & Joyce Russell | |
Head count wise, we are up to 34 who will attend to date. Let's keep the ball rolling!
---
Randy Clow sent along a note regarding a VMB 613 cap which was interesting. At our second San Diego Reunion his son, Steve, was wearing a VMB 613 cap when a veteran of 613 said "I wish I had one of those hats." Steve took his off and gave it to him on the spot. Randy just thought about it recently and decided to send a replacement cap to his son Steve which has now been done.
Bill Barber sends his regards to all. He reported that he continues to enjoy good general health for one of his age but he is taking a long time to recover from a bad bicycle accident of May 6th. On a group ride with other members of his bike club he was hit broadside by a cyclist going 20 miles per hour. He hit the pavement hard, breaking the right femur bone, also know as the thighbone. He was in the hospital for a week and the doctors talked about a hip replacement. For various reasons he objected to that, so they repaired the femur by putting a metal rod through the length of it. Following his discharge from the hospital he received considerable outpatient therapy. He continues on the road to recovery but with limited activities.
This limited activity means he decided not to attend the 2006 Reunion in Chattanooga which he had been planning to do. Hopefully he will be in full swing for the next reunion.
Heard from Sandy Hudspeth who sends regards to all. He and Marie are now back in Florida after an extended trip around the North East section of the country. They also visited with family members in the vicinity of Syracuse, N.Y. They had a good visit and returned to Florida in good shape. They experienced minor problems regarding what could be brought on board the airplanes, but not too many.
Robert Yanacek said that he had a great conversation with Robert Shock and what started out as a short chat turned out to be a 1½ hour conversation. They had a great time talking about the Ordnance personnel, by name, and one non-Ordnance guy, Farley J. Sutphin (he was in Materiel).
---
IN MEMORIAM
Condolences from squadron members to the family of Michael Jacus. Mike passed away on Wednesday, August 24, 2006. He had been diagnosed with lung cancer just three weeks prior, but no medical procedures were able to give him any relief.
Mike was buried with full Military Honors and had a Marine Detachment at the grave side. The sounding of Taps got to all in attendance.
Mike's daughter Jan and family sent along a message that mentioned his great feelings for the squadron and the Marine Corps and the fact that he had been planning to attend the reunion. Mike's family thanked us for our attention and the beautiful arrangement of flowers.
Condolences from squadron members to the family of Ken Leffman. Ken passed away on September 3, 2006. Ken had been retired for several years and he and his wife used to winter-over in Florida.
---
THANK YOU
The family of Paul Yanacek sent along their thanks for our sending the beautiful flowers to Paul's funeral service. "Thank you a million" they said.
---
HEALTH REPORT
John Aymen continues on his recovery program in the nursing center. He is better than he was and he shows signs of getting stronger. Although his progress continues at a slow pace, he has been showing some sign of improvement particularly since the nursing center staff has made a few changes in his food eating routine. They are endeavoring to have his system absorb some larger particles of food rather than use tubes all the time. This has allowed him to make an effort to determine what they are serving him. He has been able to almost identify some of the food.
John sends his regards to all through his wife's telephone conversation with me.
---
Don't forget our "MYSTERY PICTURE." I am still waiting to hear from members who are reviewing the picture.
Could this picture have been taken in Hawaii? I ask this of pilots because the Squadron War Diary refers to the fact that all pilots received additional training in survival and resisting interrogation while they were at Hawaii.
Please check your memory banks and see if they fit in with the picture.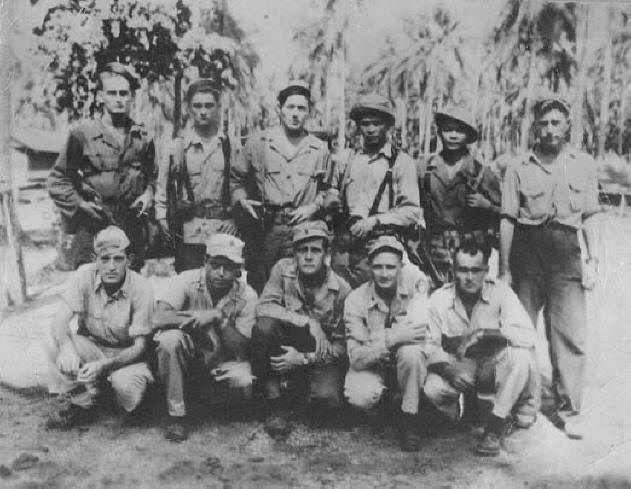 ---
WEB NEWS
The VMB 613 "Semper Fidelis" Award has been presented to two websites in recognition of their faithful contribution to the Internet community. Robert Yanacek and JD Garls have been evaluating sites and they came up with the recommended awards. Those webmasters having received our award have demonstrated fidelity and a high degree of excellence in the portrayal of military and/or naval information.
The a listing of winning websites can be viewed on our website.
The Commemorative Air Force is currently restoring a WWII PBJ-1J. Supposedly this is the only actual PBJ airframe in existence (excluding those at the bottom of Kwajalein Lagoon) and it can be seen on the following address:
http://www.orgsites.com/ca/caf-socal/_pgg8.php3
Dave Fish sent this information to our webmaster. Dave is son of Lieutenant Doit Fish, a PBJ pilot assigned to VMB 611. Dave's father's aircraft disappeared while on patrol in 1945 while searching for a downed VMB 611 aircraft piloted by Colonel George Sarles, CO of VMB 611. The aircraft wreckage was found sixteen years later in the Philippines.
This aircraft, when completed, will display the markings MB-11 (VMB-611).
---
Remember that our new fiscal year started in January 2006. If there isn't an (06) or higher two digit number appearing after your name on the mailing label on your envelope you should mail a check to us made out to VMB 613 in the amount of $20.00 for payment of dues.
Note: (05) denotes 2005, (06) denotes 2006. Many thanks to the members who have already sent in their dues checks.
---
SQUADRON MEMORABILIA
THE LIMITED EDITION COLLECTORS ITEM, the squadron logo hat pin is still available for VMB 613 members and friends. This pin is an inch in diameter and comes in a pewter finish or gold plated with a hand painted finish. The colors are similar to the colored logo that was mailed out several months ago. Marine Corps Scarlet Red background, Gold Wings, Black Cannon and Maces. Plus it is made in America.
| | |
| --- | --- |
| Pewter finish logo hat pin - $4.50 | Hand painted finish logo hat pin - $5.50 |
A new item is the license plate frame. It is a composition material (special plastic) with a red background and gold lettering. The top of the frame has U.S. MARINES and the bottom VMB 613 WWII. The cost is $5.00 INCLUDING PACKING AND SHIPPING.
USMC Heat Transfer Kit. Has 6 large insignias and 6 small insignias. Can use on caps, T shirts or any other cloth item. These kits are $3.95 each.
We still have the small VMB 613 number plate for the rear window at $5.00 each. These now can be ordered with either a WHITE or RED background.
The regular size VMB 613 license plate complete with mounting hardware is now available on special order for $20.00.
We have a limited number of Red VMB 613 caps, the cost is $10.00 each and are being sold on a first-order, first-serve basis.
These memorabilia items can be ordered from Charlie Knapp.
Here is a VMB 613 Special from McGrogan's Patch Design. A cloth patch five inches in diameter which is the standard WWII size. This is the VMB 613 squadron logo patch in color. The cost to VMB 613 members is $3.50 per patch. Order direct from the following address:
McGrogran's Patch Design
PO Box 2254
Hayden, ID 83835
Website: http://www.mcgrogans.com
Please continue the notes or letters all of which help to make the monthly letter more interesting.
This is all for now. Stay healthy.
Semper Fi,
Charlie
---
ROSTER CHANGES
For security reasons, changes to the roster are not available on-line. Please contact Charlie Knapp for address information.
---
VMB 613 E-MAIL DIRECTORY LISTING
A directory of e-mail addresses for members is available on-line in a password protected area of the site. Please contact our webmaster to obtain your password.
Note: Please check your address on the listing and let me know of any required corrections. Some messages have been returned with a comment "unknown address."