Memo To: All The U.S. Marine Corps Birthday Party Participants
Again all will have the opportunity to participate in a local Marine Corps Birthday Celebration.
Foster Cummings will be hosting his annual Marine Corps party. Hopefully Joe McDonald will be able to make the trip down from New Hampshire. Other attendees will be coming from out of town just a few miles from the Party.
I am pretty sure that Foster will also be attending the Semper Fi, U.S. Marine Corps Birthday celebration in Boston. This affair normally hosts around three thousand Marines. It has become one of the most important annual events in the area and the tickets go fast once they are printed.
October 2006 Reunion Attendees

Vern Beggs & Family (8 members)

D.C. Clay

William R. & Roberta Clow

George & Doris McDearmon & Family (8 members)

Alan & Jane Protheroe

Dottie Evans

RL and Alice Marx

Bernice Rudewick

Robert Klinke & Family (4 members)

Calvin & Joyce Russell

Charles F. Knapp

Norbert and Betty Gibbs

Robert & Helen Polakowski

Foster & Doris Cummings

Cliff Dotson

Gerald and Peggy Gutshall
We had 41 members and family members who attended the Reunion
The members and guests arrived based upon their planned schedules. It was great to see all of them and to meet the family members some of whom we had met at prior reunions and the new family members who attended for their first reunion.
Time was well spent in greetings and talking about the past activities that occurred during our over seas tour and the present events at this reunion.
Several members went on trips into the wilderness area adjacent to the reunion area. The main trip was a boat trip up and down the river where the outstanding natural stone formations were viewed.
Another outstanding site in the area was the Veterans Cemetery which is the largest one in the U.S. and is maintained in an outstanding manner, no sloppiness, everything laid out in an exact order.
During the Business Meeting the following Officers were elected:
Charles F. Knapp - President
James D. Garls - Treasurer
The elected position of Vice President was deleted by membership vote.
The determination of the next reunion was deferred until members who offered their services make an evaluation for the appropriate site.
It was voted not to disburse funds indiscriminately but to have a complete in depth study performed on the subject in the future.
On motion made, seconded and approved by the members, Robert Yanacek, the Squadron's Historian and Web Master was made an honorary member of VMB 613.
A motion was made, seconded and approved by the members to contribute $613.00 to the Squadron Historian and Webmaster, Robert Yanacek, for his out standing efforts in developing the squadron's web site.
A study is to be performed regarding who can sign checks in the case of officers presently authorized to do so, becoming incapacitated.
Prior to the start of the banquet a USMC Color Guard brought on the colors and posted them.
---
Charlie Cosbey says hello and regards to all of VMB 613. All continues well with him even in retirement.
He had the opportunity to go to his great granddaughters birthday party and was looking at some pictures of another grand daughters wedding. He keep seeing pictures of a white haired old man whom he didn't recognize so he finally asked his granddaughter who it was because he thought he was the oldest one there.
She said Grandpa you are the oldest one there and that old looking guy is you. He said that he just didn't feel like an old man of 80 years but he guessed pictures wouldn't lie and he is one of the lucky ones.
He remembers when he was 18 years old and the youngest one in VMB 613, when all of us were at Kwaj. In remembering the past he had to agree that time has passed and he did get a lot of things even though he never thought about them when he was younger.
The biggest and best job he had was to raise a family of four boys and have them all turn out to be ones that he could proud of.
Charlie Coleman says hello and regards to all. His weather report was good for the day that he wrote, one could go outside without roasting. The have had the hottest summer in the history of Texas, but the weather has changed to something beautiful temps of 80's and 90's.
Since then he called to say that he was unable to attend the reunion due to problems at his home. They returned from a trip and when they entered their driveway it was awash with water. They had suffered an electrical problem with their home transformer and that coupled with a serious water leak flooded out their home.
The kitchen floor and another portion of the house had cement floors but the remainder of the home had wooden floors. He was busy ripping out the wooden floors, trying to dry the ground and then hopefully get the new wooden floors installed.
He said that it was going to be a long job to get the plumbing repaired along with the task of installing new wooden floors.
He said that he still has the Marine love.
Heard from John and Dotti Roberson who send their best to all. Their plan to attend the reunion had to be changed due to their having to make plans for a move to their new home plus John's health would not let him travel any great distance at this time.
Chico Duarte sends his best to all. He was unable to make this reunion even though he had planned for it due to great pain and difficulty in getting around. This was caused by arthritis in the lower spine.
Bob and Betty Shock sent along a message that they lost their youngest son with cancer and a heart attack. They had to make a fast trip to their son's home area. Their son was a former Marine and a decorated one with a Purple Heart. Squadron members send along their condolences to the Shock family.
Arky Ligon's daughter Brooke Ligon called to say hello and wish us a happy reunion. She said that if her schedule could be rearranged she would endeavor to show up. However, she didn't appear so it is obvious she couldn't rearrange her schedule.
---
CHRISTMAS IN OCTOBER
Thirteen years ago Tracie Bell came up with a great idea to help replenish the Yakawich Fund. This idea was to have members contribute to the VMB 613 Yakawich Fund the equivalent Postage and Christmas Card Costs associated with their Xmas season mail outs to squadron members with the names of the contributors and their individual message.
We have had excellent responses to this great idea over the years. If the interest continues this season I will make a mail out the last week of November. MARK YOUR CALENDARS. For those interested please send your greeting message and contributions and I will add you to the Christmas Seasons Greeting List.
---
IN MEMORIAM
Condolences from squadron members:
To the family of Walter Matheson. Walter passed away on October 18, 2006. He had been ill for several years due to muscular difficulties which interfered with his over all health capacity. This limited his ability to move and required that he use a special medical wheel chair to get around.
---
HEALTH REPORT
Stan Richardson who has been in rehab for several months due to his health problem getting out of hand continues to require an extension of his stay.
He continues to endeavor to perform physical treatment exercises but on a limited basis. His system won't let him continue doing them for too long a period.
I am sure that he would like to hear from you folks, his address is as follows:
Stan Richardson
Westchester Gardens Rehabilitation & Care Center
3301 McMullen Booth Road
Clearwater, Florida 33761
Mary Jane Lewis wrote that Jim fell and broke his hip and he was rushed to a hospital. Than the MD played musical hospitals and had Jim sent to a hospital in Minneapolis. Jim decided on surgery rather than being in a wheelchair for the rest of his life. The surgery was successful and he looked great after the operation and he didn't have to ask for any pain medication.
Jim was sent to a rehab center in his home area for the rehab process. He was doing well and was doing a lot of physical and occupational therapy and was about ready to go home when his incision became infected. After moving him back to the hospital they found a blood clot and lots of infection. After medical treatment plus the administering of antibiotics he was fitted with a catheter which will be used for the next six weeks.
It was estimated that Jim would be in rehab for about a month.
I am sure that Jim would like to hear from you folks and his address while in Rehab for those who wish to send him a few words is:
Jim Lewis
Cuyuna Regional Care Center, Room 204
320 E Main
Crosby, MN 56441
John Aymen has reached a recovery point wherein it is thought that he can leave the Nursing Center. He is better than he was and he shows signs of getting stronger.
He will be returning home within the next week or so. Although his health progress continues at a slow pace he has been showing some sign of improvement, but still isn't in the best of health.
It is anticipated that he will have a walking problem and will have to endeavor to ward off infection attacks. A wheel chair will be available for him to use when he feels that he has to take a rest from endeavoring to walk.
Hopefully he will be able to get his appetite on the upward swing on his return home.
John sends his regards to all through his wife's telecon with me.
---
Don't forget our "MYSTERY PICTURE." Several members did respond to my most recent special mailing and they reported that they couldn't recognize the location of where the picture might have been taken. They also said that they checked their own albums but couldn't establish any connection to the picture.
Could this picture have been taken in Hawaii? I ask this of pilots because the Squadron War Diary refers to the fact that all pilots received additional training in survival and resisting interrogation while they were at Hawaii.
Please check your memory banks and see if they fit in with the picture.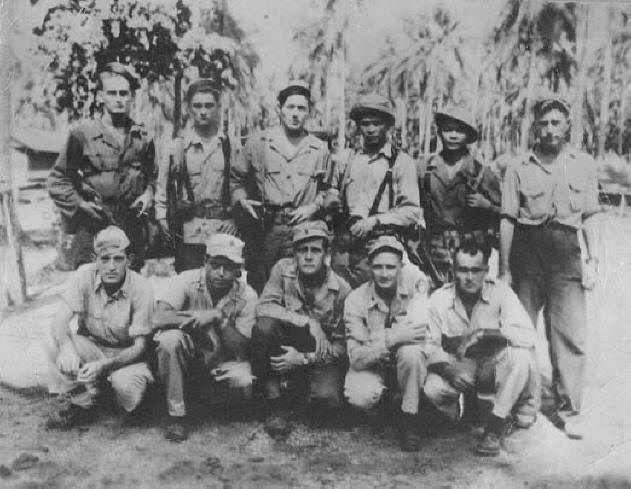 ---
WEB NEWS
Our Webmaster has been upgrading the quality of our website to give it a more professional appearance. This upgrade program is still in process and all members will be able to notice the change in appearance.
Robert Klinke (son of radio-gunner Alvin Klinke) sent along some photos of our Chattanooga Reunion. They maybe viewed now on our website.
---
Remember that our new fiscal year started in January 2006. If there isn't an (06) or higher two digit number appearing after your name on the mailing label on your envelope you should mail a check to us made out to VMB 613 in the amount of $20.00 for payment of dues.
Note: (05) denotes 2005, (06) denotes 2006. Many thanks to the members who have already sent in their dues checks.
---
SQUADRON MEMORABILIA
THE LIMITED EDITION COLLECTORS ITEM, the squadron logo hat pin is still available for VMB 613 members and friends. This pin is an inch in diameter and comes in a pewter finish or gold plated with a hand painted finish. The colors are similar to the colored logo that was mailed out several months ago. Marine Corps Scarlet Red background, Gold Wings, Black Cannon and Maces. Plus it is made in America.
| | |
| --- | --- |
| Pewter finish logo hat pin - $4.50 | Hand painted finish logo hat pin - $5.50 |
USMC Heat Transfer Kit. Has 6 large insignias and 6 small insignias. Can use on caps, T shirts or any other cloth item. These kits are $3.95 each.
We still have the small VMB 613 number plate for the rear window at $5.00 each. These now can be ordered with either a WHITE or RED background.
The regular size VMB 613 license plate complete with mounting hardware is now available on special order for $20.00.
These memorabilia items can be ordered from Charlie Knapp.
This is all for now. Stay healthy.
For security reasons, changes to the roster are not available on-line. Please contact Charlie Knapp for address information.
Note: Please check your address on the listing and let me know of any required corrections. Some messages have been returned with a comment "unknown address."