Memo To: All the U.S. Marine Corps Birthday Party Participants
Happy Two Hundred and Thirty Years!
Again all will have the opportunity to participate in a local Marine Corps Birthday Celebration.
Several members will have the opportunity to attend formal affairs at their local Marine Corps League Detachments. These events bring together Marines from the local area, as well as, former residents who return just for the affair.
Foster Cummings will be hosting his annual Marine Corps party on 5 November and will have several 613'ers in attendance. They will be coming from out of town, some from quite a distance and others just a few miles north from New Hampshire.
On 8 November Foster will be attending the Semper Fi U.S. Marine Corps Birthday Celebration in Boston. The Commandant of the Marine Corps will be the guest speaker. This annual affair will again host around three thousand Marines. It has become one of the most important annual events in the Boston area and the tickets go fast once they are printed. Foster sends his regards to everyone. He has been in touch with Joe McDonald and all remains well with him and Rita.
Cliff Dotson sends his greetings to all. He and Patsy are feeling fine and remain active on the tennis courts. He also continues his endeavors as a consultant which occasionally takes up more time then he contemplated but it is interesting work hence mentally enjoyable.
John Aymen reported that he is recuperating very well from his medical problem and his medical tests concur with his physical improvement. He has progressed from using a walker to using a cane, although he is still limited in some activities such as driving his car. Hopefully he will be able to go on a local trip just to feel what it is like to get to see what the outside world is like. John sends his regards to all.
Heard from Mike and Helen Pasachnik who say hello and best wishes to all. They are both feeling well. A friend gave Helen a picture of the signing of the Japanese Surrender document by General Douglas Mc Arthur. Standing behind General Mc Arthur is General Wainright and next to him an unknown military officer. It is possibly a British Officer. Around the perimeter are other officers from the U.S. armed forces and possibly other countries.
Mike was hoping that some of our members could identify some more personnel who are pictured therein. A copy of the picture is attached for your reviewing.
Jim and Mary Jane Lewis say hello to all. They have been having unseasonable weather in MN almost hurricane like in character but no problems in their area.
Mary Jane attended a convention in Akron, OH but failed to visit the Football Hall of Fame much to the chagrin of her sons. She and the group she was with did visit with and have an outstanding dinner at an Amish home. The dinner was held in their garage which Mary Jane said was cleaner than her house. No electricity, just candles and gas lights. The food was really outstanding and she said everything was scrumptious. Her return trip home by air was something else, all late departures which meant a very long trip home for her. Jim and Mary Jane reported that the deer are now around in abundance but the geese and ducks aren't in their usual habitats. Probably trying to stay our of the duck hunting season which was due to start.
Eric and Joel York report that all continues well for them and they wish all well. Since Joel's back continues to give her problems she has to limit her trips to real short ones and Eric doesn't like to fly so they let the children come down to visit with them. They have been enjoying short trips to scenic spots in their area which always present a different scene or scenes to take in.
I have been receiving some data on the MYSTERIOUS PICTURE of the island with the palm trees and selected individuals. Rather than pass on what has been coming through right now I plan to transmit the information in the next letter. I am sure that a few more members will be sending along some info after they recollect their thoughts etc.
Gail King, son in law to Gilbert Thomas sent along a letter and said that Martha continues her stay at the Nursing Home. She is doing fair but suffers from some severe health problems. They shared the last letter with Martha and reviewed the picture that was enclosed. They sent along their collective opinion which will be passed on next month.
Carmine Nasta says hello to all. He passed on the report that Gene Hansen passed away. He was found slumped over in the locker room at the Baltimore Orioles Stadium due to a heart attack. Carmine and the Engineering Crew say "so long to Hans." Carmine remembered General McArthur saying "olde soldiers never die, they just fade away."
Carmine mentioned the landing exercises at Quantico that VMB 613 participated in. He said that reading the short article about the PBJs landing on carriers brought the foregoing Quantico exercise to mind and possibly they contributed to the acquired knowledge that the Marine Corps utilized during their South Pacific tours.
George Deal says hello to all. He reports he is doing fine, but after all these years, after discharge, "I still miss my buddies and the Corps."
Ted Adkins sends his best to all. All continues well in his area of the world.
Jim Montgomery's son in law sent along a report that Jim (Bud) Montgomery has been in the hospital. He had a slight heart attack and had a pacemaker installed in his system. The family celebrated his 84th birthday while he was in the hospital and this really cheered him up a great deal. He has been doing well and it was planned to have him home real soon.
Jim "JD" Garls sends greetings to all. All remains well with him and his area escaped potential hurricane escapades. He spoke to Casey Coleman when hurricane Ophelia was attacking the Texas Coast and sweeping northward toward Ore City... Casey's home town. The storm moved to the east of Ore City, and caused some high winds and heavy rain, but did not create any serious damage. They were without power for more than 8 hours at the time that "JD" called. Mary reported that "Coleman" was out in the camper where he was doing the cooking with the propane stove. Both Mary and Casey were in good spirits during all this excitement.
We received information from Larry Clare (Lt Stone's son in law) that Mike Jacus has done some extensive research on the "Mystery Picture" and came up with five names. Rather than print them out now, I am going to wait and see if we get any other responses. Thanks to Mike for his untiring efforts in doing the research.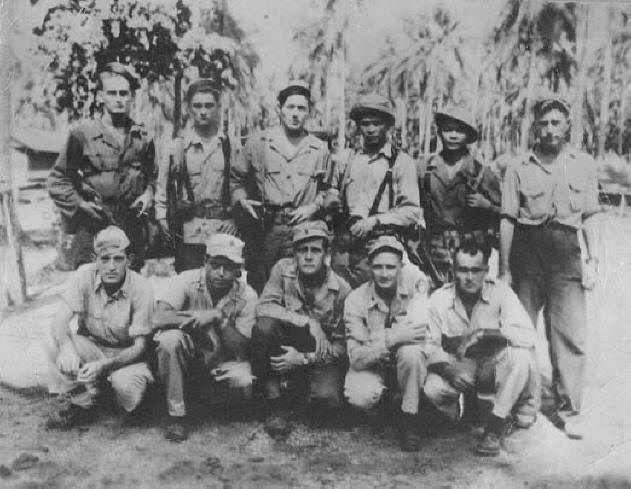 ---