60TH ANNIVERSARY MEMORIAL SERVICE
The United States Embassy in the Federated States of Micronesia (FSM), the FSM government, and local veterans joined to commemorate the 60th anniversary of the loss in combat of a U.S. Marine Corps bomber. On February 6, 1945, a flight of six PBJ-1 bombers from U.S. Marine Bombing Squadron (VMB) 613 struck the newly completed Japanese airfield at Palikir on the island of Pohnpei in the Caroline Islands. Although the target suffered heavy damage, one aircraft was shot down with the loss of all on board. At 11:15 am on February 6, 2005, the same time that Japanese anti-aircraft fire brought down the aircraft, the names of the crew members who made the supreme sacrifice during the raid were read, taps was sounded, and Ambassador Suzanne Hale and Speaker of the FSM Congress Peter Christian placed a wreath on the aircraft's engine and propeller, which still rest at the crash site.
Over thirty people took part in the ceremony, held in a jungle clearing on a hillside above the old airfield site at Palikir in northern Pohnpei. Attendees included Department of Foreign Affairs Assistant Secretary for American and European Affairs Jane Chigiyal, World War II veteran Harvey Segal, now a professor at the College of Micronesia and Vietnam Veteran Frank Semens, U.S. Army, Retired, as well as Marine Corps veterans Anthony Mix and Petericko Jacob.
VMB-613 was the only Marine Corps squadron to fly the PBJ-1H in combat. This aircraft was notable for carrying a 75 mm cannon in addition to bombs and machine guns. The six aircraft involved in the raid flew from the squadron's forward operating base on Eniwetok Atoll. Defying bad weather and intense anti-aircraft fire, the flight cratered the runway and demolished a large building adjacent to the field with a 75 mm. round. However, the last aircraft in the formation, piloted by Lt. William J. Love, was hit as it leveled out for its bombing run. The plane's right wing collapsed and the bomber crashed and exploded. The crew's remains were recovered after the war and returned to the U.S. for burial. The navigator on another aircraft in the formation was also killed during the attack. The abandoned Japanese air base was transformed into the site of the FSM national capital during the late 1980s.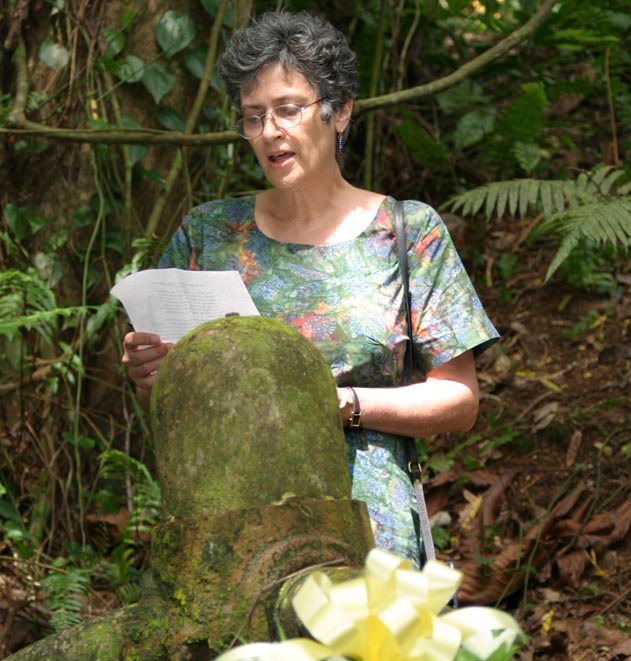 AMBASSADOR HALE: Representing the government of the United States, Ambassador Suzanne K. Hale read the names of the seven Marines who were killed in the raid on the Japanese airfield at a memorial service on February 6, 2005.
Photograph: ©2005 Stephen A. Druzak
MEMORIAL SERVICE: Speaker of the Congress for the Federated States of Micronesia, Peter Christian, and United States Ambassador, Suzanne K. Hale laid a wreath at the crash-site of MB-6 on the sixtieth anniversary of the loss of the aircraft and its crew. The hub of the port propeller can be seen directly in front of Ambassador Hale.
Photograph: ©2005 Stephen A. Druzak