MARINE BOMBING SQUADRON SIX-THIRTEEN ASSOCIATION
45 Verano Loop
Santa Fe, NM 87508-3151
(505) 466-6549

4 June 2007
Memo To: All The Flag Day Celebrants
NOTES FROM MEMBERS
Gil Peavey sends his regards to all. He said that with the warm weather supposedly on the way he will be keeping a sharp eye on the progress of the Pine Trees in his area of Maine during their growing season.
Mary Jane Lewis sends her regards to all. She sent along an article from the Star Tribune depicting medical errors made at the Minneapolis Veterans Home.
Harlan Jason a member of VMB 613 spent the last year of his life at that Veterans Home. He said that he was as happy as you could hope for during his last year of life at the Veterans Home.
Harlan was one of three Veterans who passed away within a week in which investigators concluded that the Veterans home broke state rules with medical errors that accompanied each death.
In respect to Harlan's passing the Health Department investigation reported that the Minneapolis Veterans Home "failed to properly monitor" Jason's hypoglycemia and "failed to contact the physician" when Jason's health worsened; failed to provide adequate and proper nursing care" and did not try to resuscitate or call 911 as Jason had requested in his health care directive.
The Health Departments reports on the other two veterans were almost similar, significant medication errors which jeopardized resident health and safety.
Despite the deaths of the three veterans, families forgave the errors made by the Veterans Home personnel. They said that the care was mostly good but are of the opinion that the Veterans Home should have told them about the medical errors.
Mary Jane gave a weather report which indicated that Spring hasn't really arrived in her neighborhood yet. Ice remains in the ponds and lakes along with sub zero temperatures.
For excitement Mary Jane goes to various casinos for a dining out evening and also to try to win some money.
Doc Protheroe sent me an e mail a few weeks ago and I just relocated it. It is possible that I sent this info along but it is mentioned here in case I forgot to.
He received an e mail message from Will Semple whose father Bill was on Doc's crew.
Will's sister had not so long ago Googled her father and the only thing that popped up was their aircrew photo which they had never seen before. Will then followed the photo to our Web Site and he was thrilled to the squadron's history. All of this to the thanks of Robert Yanacek.
Although Will's father was in Doc's Crew they didn't fly together as a Crew too often. Over the years Doc tried to contact Bill but didn't have any success. Doc didn't know too much about Bill's Marine Corps experience and thought it was similar to several of the 613'ers but it wasn't.
Bill joined the Corps in 1939 or 1940 and was at Pearl Harbor on December 7, 1941 and took Gunnery training in Hawaii aboard PBY's. Bill also was in the process of entering Marine Corps pilot training but failed due to eye sight, that was when he took his gunnery training. Doc thought at first he had joined the squadron over seas but he was in the crew picture taken at Newport, Ark.
Bill was apparently very successful going to college in Houston and then staring an Architectural firm in Houston. Eventually he taught at a few universities including Houston, Montana State and Penn State.
Bob Polakowski called to say hello and regards to all. He heard from June Werz who brought up the thought of VMB 613 holding a Reunion in the Quantico area. The Marine Corps has a Marine Center there now which contains Marine Corps history and would be a great area for all to see and let it bring back memories.
Bob said that he would be keeping his eyes open when looking in the various Marine Corps publications regarding the area.
He also said that there are reunion organizations that assist in getting reservations at motels in the area.
Carmine Nasta called to let us know that Edith had been operated on for an aneurism on 27 April. At the time of his calling she was under heavy sedation and was in intensive care.
Edith has since been on a slow recovery which involves getting her system adjusted to eating and regaining the proper breathing routine. She is starting to feel somewhat better but it appears that she will have to put some time in a nursing home to regain full systems mobility.
Jack Willadson sends his regards to all. He said that he was still limping around and that his brother had passed away.
Jack has been a farmer of alfalfa crops and also a cattle raiser in Wyoming for years. One of the secrets for this type of activity is having water rights. At the present time he is having to stay extra alert due to outsiders coming into the state and endeavoring to get their hands on water rights that do not belong to them. He is anticipating a lengthy legal session over these water rights as they pertain to his property.
Ralph McClain says hello and regards to all.
Dave Vogel the son of Marvin Vogel of VMB 613 wrote to our Web Master to let him know that he was web surfing and cane across the site for VMB-613.
His Dad was in 613, Marvin Vogel, and Dave sent him a couple of pictures of the site and some information that Robert Yanacek put together for him.
He sent his Dad the pictures and he was very surprised to see them and some of the Marines he served with.
Marvin is doing well, is now 84, and living in Las Vegas, Nevada. His address is as follows:
Marvin Vogel
4846 Zorano Circle
Las Vegas, Nevado 89147
Tel: 702-220-6022
Dave said thanks again for the many great memories of the greatest generation.
---
Received an update on Stan Richardson from Peach Richardson. Stan had an attack of pneumonia which he has overcome and is starting to get some of his strength back. Other wise he continues to be alert and seems to be content. Stan is still physically limited to how far he can walk and really has to watch it because he doesn't have the strength to get up and move about in the manner that he likes to.
He would like to be able to walk for long periods but his system won't let him. He continues to feel stronger and endeavors to try physical activity which he is unable to do.
Stan continues to remain alert through all this though.
I am sure that he would like to hear from you folks, his address is as follows:
Stan Richardson
Westchester Gardens Rehabilitation & Care Center
Clearwater, Florida 33761
1-727-789-5143
John Aymen started to feel very uncomfortable in the Nursing Center and asked to go home. He is home but still under medical control of the Nursing Center. He has problems eating but is able to consume some energy output food. At home he enjoys sitting on the front porch and watch the world go by. His medication has been changed which also helps his overall mental outlook.
Warren Ritter has recently returned from the hospital where he underwent some serious heart operations. He has relocated to a Senior Citizens Home and his new address is as follows:
Warren Ritter
2746 So 17th St Apt 216
Wilmington, NC 28412
---
Don't forget our "MYSTERY PICTURE." I am still waiting to hear from a few more members who are reviewing the picture. Several members did respond to my most recent special mailing and they reported that they couldn't recognize the location of where the picture might have been taken. They also said that they checked their own albums but couldn't establish any connection to the picture.
Could this picture have been taken in Hawaii? I ask this of pilots because the Squadron War Diary refers to the fact that all pilots received additional training in survival and resisting interrogation while they were at Hawaii.
Please check your memory banks and see if they fit in with the picture.
I did receive a short note from one of the members who found another envelope of notes and some pictures and have been informed that members are still searching their files to see if they can locate any information on the picture.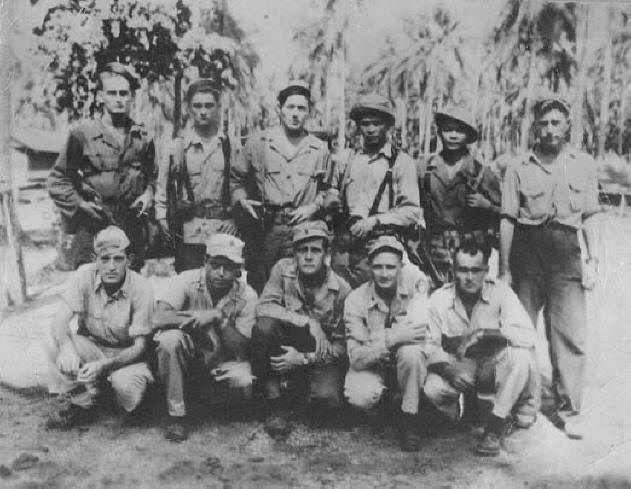 ---
WEB NEWS
Our webmaster, Robert Yanacek, has been in touch with Bill Armstrong who was with CASU-20, the unit that dumped VMB 613's aircraft into Kwajalein Lagoon off Mellu Island. Bill has written a book about the event and Robert is buying his book on the subject. In addition Robert made arrangements to give him a call and chat with him.
Robert did have the opportunity to talk with Bill Armstrong and found out he was stationed on Roi-Namur with CASU- 20. Bill remembered seeing VMB 613's plane on Roi from time to time and also remembered seeing VMB 613's PBJ'S land on Roi from time to time.
In addition he remembered the PBJ's sitting in the dump area after the war having the wheels pulled. He said that they dumped tons of aircraft and equipment into the lagoon--much of which was brand new and still in crates.
He also mentioned a Marine JM-1 (B-26) based on Roi which towed targets for the anti-aircraft gunners to practice on.
Bill Armstrong is going to a CASU-20 Reunion next month and will mention VMB 613 to his unit members if to see of anyone can provide us with additional memories.
---
Remember that our new fiscal year started in January 2007. If there isn't an (07) or higher two digit number appearing after your name on the mailing label on your envelope you should mail a check to us made out to VMB 613 in the amount of $20.00 for payment of dues.
Note: (06) denotes 2006, (07) denotes 2007. Many thanks to the members who have already sent in their dues checks.
---
SQUADRON MEMORABILIA
THE LIMITED EDITION COLLECTORS ITEM, the squadron logo hat pin is still available for VMB 613 members and friends. This pin is an inch in diameter and comes in a pewter finish or gold plated with a hand painted finish. The colors are similar to the colored logo that was mailed out several months ago. Marine Corps Scarlet Red background, Gold Wings, Black Cannon and Maces. Plus it is made in America.
| | |
| --- | --- |
| Pewter finish logo hat pin - $4.50 | Hand painted finish logo hat pin - $5.50 |
A new item is the license plate frame. It is a composition material (special plastic) with a red background and gold lettering. The top of the frame has U.S. MARINES and the bottom VMB 613 WWII. The cost is $5.00 INCLUDING PACKING AND SHIPPING.
USMC Heat Transfer Kit. Has 6 large insignias and 6 small insignias. Can use on caps, T shirts or any other cloth item. These kits are $3.95 each.
We still have the small VMB 613 number plate for the rear window at $5.00 each. These now can be ordered with either a WHITE or RED background.
The regular size VMB 613 license plate complete with mounting hardware is now available on special order for $20.00.
We have a limited number of Red VMB 613 caps, the cost is $10.00 each and are being sold on a first-order, first-serve basis.
These memorabilia items can be ordered from Charlie Knapp.
Here is a VMB 613 Special from McGrogan's Patch Design. A cloth patch five inches in diameter which is the standard WWII size. This is the VMB 613 squadron logo patch in color. The cost to VMB 613 members is $3.50 per patch. Order direct from the following address:
McGrogran's Patch Design
PO Box 2254
Hayden, ID 83835
Website: http://www.mcgrogans.com
Please continue the notes or letters all of which help to make the monthly letter more interesting.
This is all for now. Stay healthy.
Semper Fi,
Charlie
---
ROSTER CHANGES
For security reasons, changes to the roster are not available on-line. Please contact Charlie Knapp for address information.
---
VMB 613 E-MAIL DIRECTORY LISTING
A directory of e-mail addresses for members is available on-line in a password protected area of the site. Please contact our webmaster to obtain your password.
Note: Please check your address on the listing and let me know of any required corrections. Some messages have been returned with a comment "unknown address."