MARINE BOMBING SQUADRON SIX-THIRTEEN ASSOCIATION
45 Verano Loop
Santa Fe, NM 87508-3151
(505) 466-6549

5 June 2006
Memo To: All Super Patriots
Members have been letting me know that they have received the initial release of information relative to the Year 2006 Reunion which will be held in Chattanooga, TN at the Choo-Choo Holiday Inn Complex from Wednesday, October 18, 2006 through Saturday October 21, 2006 with Check Out on October 22, 2006.
For those members who have access to the Internet, the Reunion information is also available on our website.
This information will be updated periodically as required.
All family members in addition to the squadron members are welcome to attend the reunion.
A number of members have indicated in e-mail messages that they will be in attendance at the reunion.
We have already received Squadron Registration affirmation from Calvin and Joyce Russell.
---
Harlan Jason says hello to all. He is still at the Minnesota Veterans Home and enjoys the stay. They are kept very busy so there aren't any dull moments in the day and time flies along.
His telephone number while staying at the hospital is 612-724-9920. I am sure that he would like to hear from members who have the time to call him.
Frank Noland responded to my note regarding the correct phone number for him. The number we have is the correct one, but due to his very poor hearing, even with hearing aids, he never hears it ring. If he ever does pick it up he can't make out the conversation so he recommends written correspondence which he will respond to quickly.
He finished his note with the statement, he has lost his hearing, part of his sight, feeble, bald but he can still read the memo. He says hello and regards to all.
RL Marx called to say hello and report that they made it back to Arizona from New Mexico via air.
He really enjoyed the New Mexico desert and mountain area where they stayed and said it was on a par with Arizona perhaps a little better. Now the plans are to get ready and get back home.
Spoke to Foster Cummings who sends his best to all. At the time we talked they were in the midst of a severe rain storm which had been coming down for several days, 6 inches of rain in 24 hours. In some areas not too far from their home the major State and US Highways were closed.
In fact the morning after talking to Foster it was announced that the area received 11 inches of rain and many local roads were closed due to flooding.
Many of the home owners were pumping out but Foster's home only received a small amount of water run off in the basement.
He has been in touch with Doc Protheroe who has returned to Hilton Head, S.C. from Florida and all is well with he and Jane.
Foster also heard from Alex Ohlson who reported that they had returned to Cape Cod for the summer golf season. All remains well with them.
Jim and Mary Jane Lewis say hello and regards to all. They are still in the process of getting re-acclimated to their home town and in the process have noted the many changes that nature is making, such as ice free lakes.
In addition the geese, ducks, swans and loons are getting down to business. The deer are starting to show up on the roads which makes driving a little more dangerous. The trees are also starting to turn which means that spring is really on the way in.
Heard from Darrell Alderman who sends his best to all. All remains well with him. He said that he is busy doing odd maintenance jobs around the property, as well as, a certain amount of gardening preparation for the forth coming summer season.
Cliff Willis called to say hello and regards to all. He had been cleaning up some files and came across a picture of some of the troops sleeping on cots on the deck of the ship bringing us back to the states. He is going to send me the picture and I will get it onto our WEB Master for inclusion in the website.
He has been reviewing the VMB 613 book and said that it really brought back memories. An outstanding job of presentation of squadron history he said. He did recognize several members even though he had only been in the squadron for a short period.
He is still selling agricultural products and it was really fascinating listening to the products and what they can do for the agricultural organizations. It is a matter of spraying one or more of his products, depending on the product under cultivation, on the product under cultivation, and adding certain quantities of water and then get out of the way. The plants really take off and give the grower a fantastic yield.
He has had to limit his physical efforts though due to a severe back strain. If medications work out properly he will be over that problem in the near future.
Doc Protheroe sends his regards to all. He sent along two newspaper articles about the Loss of some Recruits in April 1956 at Parris Island who were ordered to march into swampy Ribbon Creek to install discipline into recruits who lacked it.
One of the these articles told the story of the platoon members actions in trying to get out of the water and their efforts to save their fellow platoon members. Another article described the survivors return and their thoughts about the incident.
John Gavin sends his best to all. He said that he has heard from Stan Inman and Carmine Nasta and all is well with them.
In watching the national news the other evening they were expounding about the forest fires in the state of Florida. This got me thinking about Sandy Hudspeth and whether he was still far enough away from the danger so I sent him an e-mail to verify his position.
He responded and said that they have not been effected by the fire, it has been to the north and south of them. Having a very dry spring has allowed the fires to spring up and this one really had a field day, but so far no one has been killed.
He said that he and Marie are in good shape and surviving the heat.
Heard from Tracie Bell who says hello and regards to all. All remains well with him in the beginning of the spring season and he hopes that the heat doesn't get too high this summer.
Michael Jacus wishes all the troops a hello and to be hale and hearty. He mentioned that the passing of Doc Scott brought memories back to him.
Doc Scott had him admitted to the hospital at Kwaj with pneumonia and he was there when the various burn victims from the various raids on Okinawa were brought in. Not only did the patients have a terrible time fighting their pain but the Medics have a difficult time working with the patients to ease the pains.
Mike has been visiting with his brothers, one in Boulder, CO and the other in Palm Desert, CA. It has given him an opportunity to get together with some of his brothers and recollect events from years ago.
He also mentioned that the rebuilt B-25 article that appeared in one of the earlier newsletters had the town of Tinley Park taking rides in it. This plane was the rebuild that Chuck Cherry, Joe Abraham and a couple of other members went to see when it was in Aurora, IL some years ago.
He found a follow up article on the aircraft which is enclosed with this newsletter, and has since located another article on this same plane. A local town was endeavoring to find a sponsor to allow the B-25 to fly for a Memorial Day B-25 Flyover when a local farmer (a Veteran) made a donation to make this a possibility when the Town had its annual fair. This article is also enclosed with this newsletter.
This farmer sold the family farm and felt he would like to have the plane back in town. This was his way of saying he liked having the B-25 ripping around for the day.
Bob Litzau sends his best to all. He has given more thought to the creator of the VMB 613 logo and still is of the opinion that Lt Edmunds was the designer of it and the person who painted it outside the Squadron Administrative building. Lt Edmunds also designed and painted caricatures of various squadron officers on a wall inside the O'Club.
---
TAPS
Condolences from squadron members to the family of William Kehr. Bill passed away on April 17, 2006 due to injuries sustained in a fall at home. There were no formal services and burial was performed at the new Veterans Cemetery in North Atlanta, GA. His obituary is as follows:
William Arthur Kehr of Marietta, 83, passed away April 17th from complications due to a recent fall. Born in Erie, Pennsylvania, he graduated from the Wharton School of Business at the University of Pennsylvania.
He was a Marine Navigator in the Pacific during World War II and was active in his veterans group. Most of his career was as a sales executive in the business forms industry.
He is survived by Marian, his wife of 59 years and his children William J. Kehr, Carolyn Williams, Robert Kehr, Nancy Bryant, Bruce Kehr and five grandchildren.
A memorial service will be held at the Georgia National Cemetery at a later date. In lieu of flowers donations can be made to either the American Heart Association of the Audubon Society.
The family of John Siergiewicz sent along a grateful acknowledgment of our kind expression of sympathy, the flowers were really appreciated by all family members.
The family of Doctor J. Clifford Scott sent along a grateful acknowledgment of our kind expression of sympathy. This was greatly appreciated by all the family members.
---
HEALTH REPORT
Received a message that Stan Richardson's health hasn't been too good for a few weeks. He had a bout with pneumonia, and coupled with his problem of pulmonary fibrosis it left him in a very weakened condition. He put some time in the Rehabilitation and Care center where noticeable daily improvement was observed in his regaining of strength. Finally he was well enough to be sent home. Stan says hello to everyone.
John Aymen sends his best to all. He continues to hold his own and hopes that some minor medication will make him feel more robust which in turn will allow him to start doing a few things around their new domicile.
---
Don't forget our "MYSTERY PICTURE." I am still waiting to hear from members who are reviewing the picture.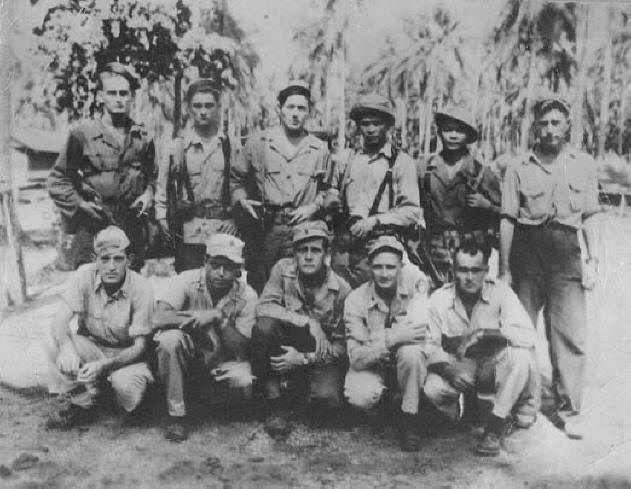 ---
WEB NEWS
Our webmaster is updating the squadron roster based upon some rosters that were recently received. He has been able to come up with 1,001 names of Marines who have served in VMB 613. Hopefully he will be able to complete his research soon and have the final count. This will allow us to review all the names of personnel who ever served in VMB 613.
In completing the forgoing, the Roster that included that massive personnel promotions of August 1945 was included in his working material. It took him over five days to complete the updates in the webpage records. When one looks at the files now they will notice the changes.
Our webmaster has also added eight new photos which include many items of interest. If you have the opportunity check them out.
Our webmaster has also been in contact with representatives of the Commemorative Air Force and they are working on the restoration of a PBJ-1. Supposedly this is the only actual PBJ airframe in existence (excluding ours at the bottom of Kwajalein Lagoon).
---
Remember that our new fiscal year started in January 2006. If there isn't an (06) or higher two digit number appearing after your name on the mailing label on your envelope you should mail a check to us made out to VMB 613 in the amount of $20.00 for payment of dues.
Note: (05) denotes 2005, (06) denotes 2006. Many thanks to the members who have already sent in their dues checks.
---
SQUADRON MEMORABILIA
THE LIMITED EDITION COLLECTORS ITEM, the squadron logo hat pin is still available for VMB 613 members and friends. This pin is an inch in diameter and comes in a pewter finish or gold plated with a hand painted finish. The colors are similar to the colored logo that was mailed out several months ago. Marine Corps Scarlet Red background, Gold Wings, Black Cannon and Maces. Plus it is made in America.
| | |
| --- | --- |
| Pewter finish logo hat pin - $4.50 | Hand painted finish logo hat pin - $5.50 |
A new item is the license plate frame. It is a composition material (special plastic) with a red background and gold lettering. The top of the frame has U.S. MARINES and the bottom VMB 613 WWII. The cost is $5.00 INCLUDING PACKING AND SHIPPING.
USMC Heat Transfer Kit. Has 6 large insignias and 6 small insignias. Can use on caps, T shirts or any other cloth item. These kits are $3.95 each.
We still have the small VMB 613 number plate for the rear window at $5.00 each. These now can be ordered with either a WHITE or RED background.
The regular size VMB 613 license plate complete with mounting hardware is now available on special order for $20.00.
We have a limited number of Red VMB 613 caps, the cost is $10.00 each and are being sold on a first-order, first-serve basis.
These memorabilia items can be ordered from Charlie Knapp.
Here is a VMB 613 Special from McGrogan's Patch Design. A cloth patch five inches in diameter which is the standard WWII size. This is the VMB 613 squadron logo patch in color. The cost to VMB 613 members is $3.50 per patch. Order direct from the following address:
McGrogran's Patch Design
PO Box 2254
Hayden, ID 83835
Website: http://www.mcgrogans.com
Please continue the notes or letters all of which help to make the monthly letter more interesting.
This is all for now. Stay healthy.
Semper Fi,
Charlie
---
ROSTER CHANGES
For security reasons, changes to the roster are not available on-line. Please contact Charlie Knapp for address information.
---
VMB 613 E-MAIL DIRECTORY LISTING
A directory of e-mail addresses for members is available on-line in a password protected area of the site. Please contact our webmaster to obtain your password.
Note: Please check your address on the listing and let me know of any required corrections. Some messages have been returned with a comment "unknown address."