Memo To: The 4th of July Celebrants
NOTES FROM MEMBERS
Mike Bennan sends his best to all. He said that he is still having a hard time from the stroke he had back in December 2005. He is able to get in a walk every day for at least a half hour. Other problems come up but he manages to handle them.
Jack Schwertfager called to say hello and regards to all. He had just received the monthly newsletter and had finished reading it. He said that seeing all the names of members brought back a lot of memories.
All continues well with him but he has had to limit the time he uses for exercising on the golf course and tennis courts. He doesn't want to pull too many tendons which will really make him limp for a few weeks during the recovery cycle.
Cliff Dotson called and said hello and regards to all. He was getting ready to attend an event in Alabama wherein the Commandant of the Marine Corps will be in attendance. This type of event occurs almost annually and he is always invited to attend.
Wayne and Freda Noble send their regards to all. They mentioned that they really like their new home particularly the assisted living routine that goes along with it.
Heard from John and Dorothea Roberson who send their regards to all. They sent along a write up on John's latest events and said it will give some of us a laugh. One Friday in the recent past they spent a lot of time in the Emergency Room.
First: John had an accident on the EZGO Cart at 11:30 AM one day. He put his foot on the brake the foot slipped off and hit the accelerator. That drove him into the pasture gate. The force opened the gate which has a very good latch and it was closed. The gate looks a pretzel now. John went flying over the right fender, and broke the steering column. But the worst was that it scraped his arm above the elbow, peeling the skin back about 2.5-3 inches and then he landed on some fire ants.
The best of it was that he didn't get hurt anywhere but that one spot. No break or other injuries thank God! He is healing fine. Now I know why they put those tough bumper guards on the front of the EZGO. Think we will put a governor on it, seat belts and give John a helmet. Plus he will learn how to brake with his left foot.
Then about 2:30 PM while they were finishing with him. Dorothea was just sitting there and almost fainted. Her pressure and heart rate was very low and medically she had no reason for the ordeal so they kept her there for medical check ups. Everything checked Okay except her pressure remains crazy.
They got out of the hospital at 7:30 P.M.
Foster Cummings says hello and regards to all. He has been in touch with Joe McDonald and Rita and all is well with them.
Foster is waiting for the 4th of July Fireworks Celebration to commence firing over the lake towards his property. They are almost a mile away from the firing area and get a good look at all shots.
Our webmaster, Robert Yanacek received an e-mail from Terry Manning the son of F.S. "Jerry" Manning who was a Pilot in VMB 613. Terry was going through some of his folks photos and albums and he found the Squadron Book. He then did a search on Google and found our Website. EXCELLENT Job! He stayed up until 3 AM reading through it.
Here is his address for those members who wish to get in touch with him:
Terry Manning
PO Box 1309
Dripping Springs, TX 78620
E-Mail: manning.terry@gmail.com
Raymond (Ray) Hickey sends his best regards and greetings to all the VMB-613'ers. He has been busy cutting and splitting wood for his winter heating requirements. Their seventeen acres back up to a mountain (state-land) which gives them an excellent source of fire wood. They burn about six full cords every winter.
At this time of life they limit their traveling to the grocery store routine and the medical doctor routine.
He reported that the weather has been good. It really warmed up in their area with the temperatures hitting the 90's at its peak, but they still had some 70 degree days with a promise of some 60 degree weather on the way to even things up a little.
The both have to watch their health and follow some medical advice to make sure that things will proceed as planned.
George McDearmon sends his regards to all. He reported that he and Doris are still active but with some signs of slowing down.
Jack Willadsen sends his best to all. He said that his old typewriter finally gave out so he bought a new one but it won't cooperate with him and do what he expects it to do, hence he still uses a pen or pencil to communicate.
He had a visitor from Denver a few weeks ago and this person was a writer. He is writing a book on early air plane crashes in the Rocky Mountain area. A Mail Plane crashed on the north east end of their ranch in 1935. They bought the ranch in 1947. At that time there were still visible signs of the wreck, but now it is all covered with pine needles.
Jack send along a picture of the aircraft and a copy of the accident report both of which are interesting. They are both part of this Newsletter.
A message was received from a native of Ponape. He is doing a video documentary on the repatriation of Ponape Island natives back to their home island from the island of Kusaie after the war ended. His name if Andrew Geminaro and he now lives in Hawaii but is originally from Ponape in the Carolines.
He had an uncle, a Ponape Islander that was enslaved by the Japanese Imperial Navy on the island of Kusaie during the war. He is one of only 9 surviving out of 179 men sent to Kusaie in 1943 to build a Naval Air Strip. He is now telling his story. He needs pictures of the war on these two islands.
If any members have pictures that they can identify to the islands during the War he would appreciate receiving copies of them for use in the story of what transpired on the islands during World War II. Send pictures to:
Andrew Germinaro
PO Box 151
Kunia, Hawaii 96759
Tel: 808 621 3676
E-Mail: kanedrew@aol.com
DC Clay said that in Bill Kehr's book on the History of VMB 613 there were a couple of photos of Kusaie and we are in the process of getting copies made for transmittal to Andrew Germinaro.
DC says hello and regards to all. He gave a weather report for his area of the desert and said it is mostly low to mid 90's in the day time, cooling some what at night. Their area is dryer than usual making them prone to the fire hazards although there isn't too much danger in their immediate location.
In last month's news letter the verbiage under the picture of Second Lieutenant Charles A. Ringler indicated that he was transferred to Marine Air Group Sixty-Two (MAG62). That transfer data should be enlarged to indicate that he was subsequently transferred to MAG-61 and deployed to Emirau with one of the 400 series Marine Bombing Squadrons.
Several weeks ago I received an e mail from a Middle School Scholar, by the name of Kenny Johnson who was looking for information relative to Iwo Jima. I forwarded a copy of his e mail to Vern Beggs to see if he could help him out. Vern contacted Kenny and said that he seemed like a very intelligent and scholarly student who expressed an interest in Iwo Jima. Vern sent him an e-mail synopsis of the Squadron contingent that was sent to Iwo. This was very much appreciated by Kenny Johnson.
---
Received a report that John Aymen passed away on the 16th of May and was buried on the 21st of May.
John had been very ill for several months and had just returned home, but still under the control of the hospital, where he felt more relaxed. His health condition didn't improve while staying at home and his system finally succumbed to the illness that was affecting him.
Received a report that Wilda Alleen Young Chappell passed away on the 9th of May and was buried on the 12th of May at Oak Grove Cemetery, within sight of her home and the mountains she loved.
---
HEALTH REPORT
Received an update on Stan Richardson from Peach Richardson. Stan continues to improve his breathing routine to overcome his shortness of breath and is continuing to get more of his strength back. Other wise he continues to be alert and seems to be content. Stan is still physically limited to how far he can walk and really has to watch it because he doesn't have the strength to get up and move about in the manner that he likes to.
He would like to be able to walk for long periods but his system won't let him. He continues to feel stronger and endeavors to try physical activity which he is unable to do for an extended period. He also takes daily treatment to improve his systems breathing.
To change the appearance of his hospital room he has a Marine Corps cap hanging at the head of the bed and has a couple of other items with Marine Corps insignia in the area. When another Marine comes in and they share stories on the Corps which makes the world go a little faster. Stan continues to remain alert through all this though.
I am sure that he would like to hear from you folks, his address is as follows:
Stan Richardson
Westchester Gardens Rehabilitation & Care Center
Clearwater, Florida 33761
1-727-789-5143
---
Don't forget our "MYSTERY PICTURE." I am still waiting to hear from a few more members who are reviewing the picture. Several members did respond to my most recent special mailing and they reported that they couldn't recognize the location of where the picture might have been taken. They also said that they checked their own albums but couldn't establish any connection to the picture.
Could this picture have been taken in Hawaii? I ask this of pilots because the Squadron War Diary refers to the fact that all pilots received additional training in survival and resisting interrogation while they were at Hawaii.
Please check your memory banks and see if they fit in with the picture.
I did receive a short note from one of the members who found another envelope of notes and some pictures and have been informed that members are still searching their files to see if they can locate any information on the picture.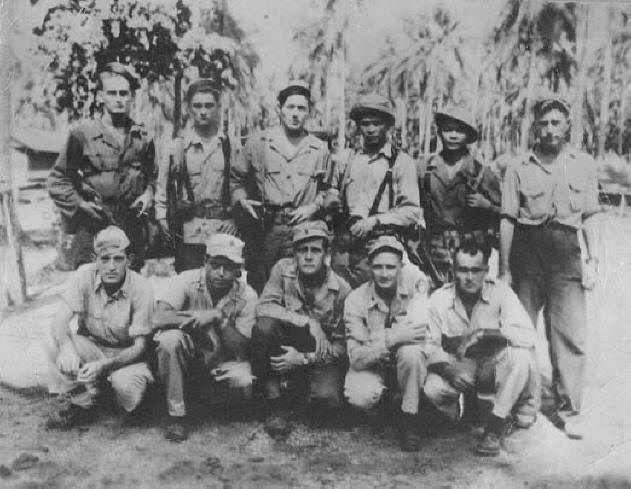 ---
WEB NEWS
Our webmaster, Robert Yanacek, needs a picture of William M. Farley to complete his squadron files. If any member locates a picture of William in their albums or squadron picture files please forward it to Robert at the following address:
Robert Yanacek
1718 Creek Street
Kill Devil NC 2794
Robert reported that he has again heard from Bill Armstrong of CASU-20 who reported that he had a few flights on the PBJ's as a passenger.
A member of CASU-20 has written a book about various WWII scenes in the Kwajalein Lagoon and Robert has purchased it and is in the process of reading it. New information about the waters of Kwajalein Lagoon will be in the book which should make it very interesting reading.
Bill Armstrong also remembers the Marine Composite Group that was sent to Kwajalein to provide anti-aircraft defense for Kwajalein Atoll. They were always shooting at targets being towed by JM-1's (B-26 Marauders) but he never saw them hit the target.
Members of CASU-20 had a reunion scheduled in June and Robert loaned them a copy of Doc Scott's movie of 1945 Kwaj to bring back memories to the reunion attendees.
Dan just recently returned from a dive on VMB-613 aircraft at the bottom of the lagoon and will be doing a number of additional e-mail articles, including one which will feature VMB-613.
Here are two addresses, which when pulled up, will show an F4U crash at Ponape:
http://www.yanacek.net/photos/f4u1.jpg
http://www.yanacek.net/photos/f4u2.jpg
We might have shown this actual picture several years ago.
The most stunning web-related news is that our webmaster received many never-before-seen VMB-613 photos from Terry Manning, son of pilot Jerry Manning. A number of them are even in color!. These photos were taken primarily by Dave Snider while the squadron was at Cherry Point and Newport. Robert has made these photos available for viewing on the Internet in a temporary location.
He hopes that as members view them, they will provide him with names to match the faces and other interesting facts related to these photographs. He has already heard from Herb Schwartz who has identified many embers of Ordnance. Here is a list of links to these new photographs:
See listing at end of newsletter.
---
Remember that our new fiscal year started in January 2007. If there isn't an (07) or higher two digit number appearing after your name on the mailing label on your envelope you should mail a check to us made out to VMB 613 in the amount of $20.00 for payment of dues.
Note: (06) denotes 2006, (07) denotes 2007. Many thanks to the members who have already sent in their dues checks.
---
SQUADRON MEMORABILIA
THE LIMITED EDITION COLLECTORS ITEM, the squadron logo hat pin is still available for VMB 613 members and friends. This pin is an inch in diameter and comes in a pewter finish or gold plated with a hand painted finish. The colors are similar to the colored logo that was mailed out several months ago. Marine Corps Scarlet Red background, Gold Wings, Black Cannon and Maces. Plus it is made in America.
| | |
| --- | --- |
| Pewter finish logo hat pin - $4.50 | Hand painted finish logo hat pin - $5.50 |
A new item is the license plate frame. It is a composition material (special plastic) with a red background and gold lettering. The top of the frame has U.S. MARINES and the bottom VMB 613 WWII. The cost is $5.00 INCLUDING PACKING AND SHIPPING.
USMC Heat Transfer Kit. Has 6 large insignias and 6 small insignias. Can use on caps, T shirts or any other cloth item. These kits are $3.95 each.
We still have the small VMB 613 number plate for the rear window at $5.00 each. These now can be ordered with either a WHITE or RED background.
The regular size VMB 613 license plate complete with mounting hardware is now available on special order for $20.00.
These memorabilia items can be ordered from Charlie Knapp.
This is all for now. Stay healthy.
For security reasons, changes to the roster are not available on-line. Please contact Charlie Knapp for address information.
Note: Please check your address on the listing and let me know of any required corrections. Some messages have been returned with a comment "unknown address."