MARINE BOMBING SQUADRON SIX-THIRTEEN ASSOCIATION
45 Verano Loop
Santa Fe, NM 87508-3151
(505) 466-6549

6 December 2008
Memo To: All the Holiday Shoppers
MERRY CHRISTMAS AND A HAPPY NEW YEAR TO ALL
NOTES FROM MEMBERS
Received a Sick Bay report of Gerry Gutshall that reported he has had his share of problems since he had his knees replaced in February. He was coming along pretty well, until cellutis set in above his right knee. It has been very painful and he has had to go back to using the walker or cane.
Medicine wise he has to be very careful that the drugs he does take don't interact in a negative way. For sure he can't take anything with Aspirin or Aleve in it.
Heard from the Protheroe's who say hello and regards to all. Doc has been busy doing yard work in anticipation of leaving on a trip. They are planning to leave for Florida in a few weeks for their winter vacation along with the snow birds heading south via the Intra-coastal and hope that they miss and snow trying to creep down south. They are anticipating being able to soak up a few months of the Florida Sun.
Jane mentioned that she recently received service records of a great uncle, USMC 1900-1905, which about forty some years ahead of us. He left service after five years as a Sergeant. They sent along newspaper clippings regarding Marines and events at Parris Island which are included with this Newsletter.
We also heard from Nancy Kobussen, Bob Pollack's daughter who reported that Lean had been in the hospital for 2½ days recuperating from a heart attack. She will have to undergo surgery at some point but is home now doing recuperation in anticipation of the required surgery.
Waxie Prankard sends his regards to all. He sent along his email address for listing in the monthly Newsletter.
Ralph McClain sends his regards to all. Everything is proceeding well with him and he hopes the same for all members.
Nick Bozic says hello to all. He is feeling good but has to take care of how he endeavors to move about. His right knee remains bandaged up which helps him when he tries to walk. He can't take more than two steps at a time so he doesn't try to move around too quickly.
He has to use a walker when he does try to walk or try the wheel chair and even then he limits his moving activities.
He mentioned that they have been undergoing a cold spell, 9 deg temp. They are waiting for a snow storm which will make their current snow fall of 5-6 inches
look tame. The anticipated snow storm is supposed to be in the two digit category. Last year they had 40 plus inches of snow during the snow season.
Sandy Hudspeth is in the process of being released from the hospital. He will still have to have some assistance in moving about when he gets home. They are considering an assisted living routine which will be implemented once he returns home.
Foster Cummings sends his best to all. Their local weather is trying to force winter upon them rather early this year, the temperature has been around 21 degrees on some of the days. He said that he had his annual Marine Corps Birthday Party at his home with around 22 Marines and family members in attendance.
Joe McDonald and Rita were among those in attendance. They came down from Maine and both were very peppy.
They also attended the Annual Boston Marine Corps Birthday Ball and Banquet. This was held at the Convention Center in Boston with over 1600 in attendance.
The guest speaker was a General from Headquarters Marine Corps, and he was able to give them up to date Marine Corps news. Foster said that things are not too well squared away in the combat zones so it is necessary for the Corps to really stay abreast of the opposition to avoid any surprise activity.
Spoke to Jim Garls who sends his regards to all. He said that he is still having a walk problem and uses a special walker out of doors around the property and another walker for inside the house use. In both instances he maintains patience to make sure that no sudden accidents will occur.
Jim also sent along some newspaper pictures and article about a home six blocks from his residence which was being rushed to completion for the benefit of an
eight year old boy. This boy suffers from a disease that causes his bones to break easily and since his old house was inaccessible to him it was demolished and replaced by a 4000 square foot, seven bedroom home, four bathroom house. The television show "Extreme Makeover: Home Edition" will run later this year.
Jim did mention that our reserves for special affairs are getting low. It would be appreciated if members could make contributions to VMB 613 so that we can continue our efforts in making contributions to specific special affairs such as we have been doing for many years. Forward contributions to me and I will coordinate with Jim on funds received.
I called Red Nelson who says hello to all hands. His left leg is still in a critical condition which has stopped him from walking. He is still bed ridden and remains under the control of his Doctor. This means he has to move about very slowly so as not to disturb his over all system. He reported that Evelyn is in fine condition and maintains control over his actions to make sure that he doesn't have any accidents due to falling while endeavoring to move around.
Sam Wolfe sent along a letter wherein he thanked us for the monthly newsletter. He said that it contained great information re: the squadron and members. Since he was able to locate us after so many years of silence he said that he has been in touch with Foster Cummings, Donald Clay and Nick Bozic and had great conversations with all of them.
He said that he remembered Robert Yanacek's Dad, Paul, and that Robert should be thanked by all for his terrific job of updating and enlarging the Squadron website.
I located a typed copy of the VMB 613 history that was distributed to all members a few years ago and informed him that a copy was on the way to him. He said that he is looking forward to receiving it.
Bob Polakowski's daughter, Joan, has been working on the plans for our 2009 Reunion but reported that she will have to fall back to the year 2010 due to demanding matters that take precedent.
She is still definitely willing to head up the reunion and all her planning from now on will be for that year. She will be very glad to receive any and all e-mails on members recommendations to make the re-union an outstanding event.
---
WEB NEWS
Robert Yanacek, reported that he recently received an e-mail from Dave Snider's daughter. Dave Snider was the photographer killed with Bill Love's crew in the raid over Ponape on 6 February 1945.
Dave's daughter's name is Ellen Bayer. Her birth name was Davey Ellen Snider, but was legally changed when she was adopted as a young child. She was only two months old when Dave was killed. She reported that she recently discovered our squadron's website after receiving an e-mail from a relative. The e-mail alerted her that her Father's name was on the our website, along with photographs and some other details she would be interested in knowing.
While viewing our website Ellen discovered, to her amazement, that her father was buried in the United States. All she was ever told was that he was buried on Ponape. A few years ago, she even looked into the possibility of traveling to Ponape to visit her Dad's grave. The records provided to us by the Marine Corps indicated that Dave's body was brought back to the U.S. in 1949, which was confirmed by the cemetery in which he is buried.
Ellen also indicated that she only had one small photo of her Dad. Thanks to the photos provided by Terry Manning that are on the website, she now has four more, two of which are with both her mother and father. She also mentioned that she has her Dad's Purple Heart, a few other medals, and an old letter from Bob Love that was written to her mother in September 1945.
Ellen currently lives in Miami, FL. She is planning to go to New York in the near future and now intends to visit her Dad's grave which is located in Rochelle Park, New Jersey.
Ellen would like to speak or correspond with anyone who knew her Dad. You may e-mail her at: artisticdecor@aol.com
Robert Yanacek sent along the below photograph of Ellen with her husband, two daughters, son-in-law, and two beautiful grandchildren.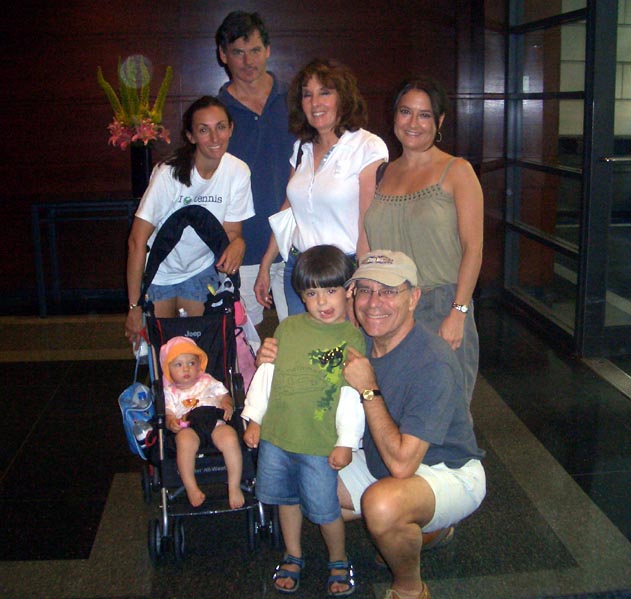 ---
Remember that our new fiscal year started in January 2008. If there isn't an (08) or higher two digit number appearing after your name on the mailing label on your envelope you should mail a check to us made out to VMB 613 in the amount of $20.00 for payment of dues. Many thanks to those members who have already paid their dues.
Note: (07) denotes 2007, (08) denotes 2008, (09) denotes 2009. Many thanks to the members who have already sent in their dues checks.
---
SQUADRON MEMORABILIA
THE LIMITED EDITION COLLECTORS ITEM, the squadron logo hat pin is still available for VMB 613 members and friends. This pin is an inch in diameter and comes in a pewter finish or gold plated with a hand painted finish. The colors are similar to the colored logo that was mailed out several months ago. Marine Corps Scarlet Red background, Gold Wings, Black Cannon and Maces. Plus it is made in America.
| | |
| --- | --- |
| Pewter finish logo hat pin - $4.50 | Hand painted finish logo hat pin - $5.50 |
A new item is the license plate frame. It is a composition material (special plastic) with a red background and gold lettering. The top of the frame has U.S. MARINES and the bottom VMB 613 WWII. The cost is $5.00 INCLUDING PACKING AND SHIPPING.
USMC Heat Transfer Kit. Has 6 large insignias and 6 small insignias. Can use on caps, T shirts or any other cloth item. These kits are $3.95 each.
We still have the small VMB 613 number plate for the rear window at $5.00 each. These now can be ordered with either a WHITE or RED background.
The regular size VMB 613 license plate complete with mounting hardware is now available on special order for $20.00.
We are out of stock on the Red VMB 613 caps. Efforts are in process to find a qualified organization to supply us with a restock of the caps.
These memorabilia items can be ordered from Charlie Knapp.
Here is a VMB 613 Special from McGrogan's Patch Design. A cloth patch five inches in diameter which is the standard WWII size. This is the VMB 613 squadron logo patch in color. The cost to VMB 613 members is $3.50 per patch. Order direct from the following address:
McGrogran's Patch Design
PO Box 2254
Hayden, ID 83835
Website: http://www.mcgrogans.com
Please continue the notes or letters all of which help to make the monthly letter more interesting.
This is all for now. Stay healthy.
Semper Fi,
Charlie
---
ROSTER CHANGES
For security reasons, changes to the roster are not available on-line. Please contact Charlie Knapp for address information.
---
VMB 613 E-MAIL DIRECTORY LISTING
A directory of e-mail addresses for members is available on-line in a password protected area of the site. Please contact our webmaster to obtain your password.
Note: Please check your address on the listing and let me know of any required corrections. Some messages have been returned with a comment "unknown address."