Memo To: All The Santa Claus Helpers
NOTES FROM MEMBERS
Received a message from Cliff Dotson who mentioned that many of our comrades during reunion conversation in the PBJ Lounge tried to remember the band that first recorded the "Sentimental Journey" late in 1945. As a result of his memories of listening to that beautiful song just before the Japanese surrender announcement on Al Rothenback's short-wave radio he continued to think about it. (He refers back to our Web Site, Personal Memories).
Some thought the band was the Glenn Miller Band, Bob Polakowski researched the question and came up with the answer that was Tommy Dorsey's orchestra. After the reunion Cliff researched the question and found that the correct answer to the query was Les Brown and his Band of Renown. Les Brown and two others composed the lyrics. Doris Day was the vocalist who is still living.
Cliff confirmed this information with Patsy's niece who was a musical producer for CBS and later Readers Digest. Doris Day produced an album of WWII songs in the early sixties while she was still with CBS, including Sentimental Journey that was included in her album.
Cliff said that he thought that the reunion was great despite the fact that many of our comrades who could not attend for various reasons are still out there. He thinks of them frequently.
He further mentioned that although the time he spent in the Marine was less than 4% of his life it has had a disaportinuate impact on his life today as he reflects back over the years including the opportunity to attend college which he was certain he would not have been able to do. "That is why I am always glad that I can, if I wanted to, add USMC after my name."
We also heard from another VMB 613 members son. Will N. Semple the son of Staff Sergeant William S. Semple.
He is extremely excited that he found a website that finally connects the pieces that he has been looking for about his fathers military service.
He has been very enthusiastic about WWII warbirds as long as he can remember and he now works as an airframe power plant mechanic for a major air line.
Also, he was sorry he found out about our association so late because he would have loved to attend the reunion and gotten to meet some of the people his father served with.
His Dad died on July 21, 1996 due to a massive stroke.
He thanks us for filling in all the things that his Dad just never got around to telling him about the squadron. He will be receiving some squadron history data in the very near future that will really be of interest to him.
Will, in closing his letter says thank you guys again for every thing and for serving this country with honor and pride. It makes me feel good to know that my father was a part of this.
I had informed Doc Protheroe of Will Semple getting touch with us. Will's Dad was on Doc's crew and Doc sent him a picture of the Crew which included his Dad's presence. Doc was also going to give him some information relative to pulling down more information from our WEB site.
Doc also sent along Brooke Ligon's WEB Site address for her Dad, which is www.bobligon.com. It is tremendous site in memory of "Arkie" Ligon.
Doc sent his regards to all and said that they would be leaving for Florida in a few days and would return the end of March.
Attached to this letter are pictures of Yemassee, S.C. one of which shows Doc Protheroe. The pictures were taken back in 1995 by Jane but still bring back memories to those of us who stopped off their for further transportation to Parris Island. A newspaper article accompanies the pictures.
We also received correspondence from another member of the VMB 613 family.
Bill Gaynor wrote that Robert Litzau is his wife's grandfather. He is currently working on getting him a flight jacket for his patch, his name tag and the memories. He has talked to Robert Litzau many times and gets real enthused about hearing of WWII from a person who was actually there.
In zooming around on our Website he found a picture of Robert's plane called 8-ball. The name of Jack Barton and the fact that he lived in Arizona was amazing to him that Robert could still be in contact with his fellow Marines from WWII. He said that he had to tell us about his fascination for our WEB Site and how much he is finding all of this information fascinating.
Received a message from Lloyd McDaniel who said that he was sorry he could not get to the reunion. He had problems getting various things squared away and then it was suddenly too late to go. He also had to miss the 16th Infantry Battalion reunion that was held in Indianapolis. He has started to lay plans for the next one.
He is sure that everyone had a good time and again he can only say that he wishes he was there and he did think of everyone during the reunion.
Foster Cummings says hello and Happy Birthday to all. He had his annual Marine Corps Birthday Celebration at his home with a large turn out. Joe and Rita McDonald made it down from New Hampshire and were the VMB 613 Reps's from out of Town.
He also attended the large Marine Corps Birthday Celebration in Boston and although he didn't have the exact head count in attendance he multiplied the number of tables by the number of seats at each and came up with a figure close to 2000.
Bob Polakowski sent Marine Corps Birthday greetings to all. He said that he would be calling Foster Cummings, RL Marx and Doc and Jane Protheroe also. He hoped that he would be able to contact Doc before he left for Florida.
Nick Bozic sends his best to all, and for all to have a Merry Christmas. He was sorry that he couldn't attend the reunion, problems walking, but he was sure that everyone in attendance had a wonderful time.
He reported that in three weeks he will be 85 years old but is still able to move around, even though slowly. He is catching up on the election results and is waiting to see if new partisan politics will come into play.
Received word that Jim Packard came down with pneumonia but he is on the road to recovery. He sends his regards to all.
Jim "JD" Garls sends Marine Corps Birthday greetings to all. He said that the temperature at the time of his writing was in the high seventies in Pekin, IL.
The weatherman was predicting rain and cold weather for the next day though.
Jim's monstrous shade trees were very productive this year and he had helpers raking up the leaves. At the time of writing they had filled over thirty or more 30 gallon sacks with leaves, and the job was not even close to being done. He said OH for the good old days when they raked them into a pile in the unpaved street and then set them on fire.
---
CHRISTMAS IN OCTOBER
Thirteen years ago Tracie Bell came up with a great idea to help replenish the Yakawich Fund. This idea was to have members contribute to the VMB 613 Yakawich Fund the equivalent Postage and Christmas Card Costs associated with their Xmas season mail outs to squadron members with the names of the contributors and their individual message.
We have had excellent responses to this great idea over the years. If the interest continues this season I will make a mail out the last week of November. MARK YOUR CALENDARS. For those interested please send your greeting message and contributions and I will add you to the Christmas Seasons Greeting List.
---
HEALTH REPORT
Stan Richardson continues in rehab due to his health problem getting out of hand. He is feeling stronger and able to walk a little by himself. He still has a guide at his side to assist him in a wheel chair. There are still physical movements that he isn't able to do by himself but he does make an attempt to improve in that area.
The use of the wheel chair helps him in his physical improvement. His wife said that he is very alert and they take wheel chair strolls through the grounds on a daily basis.
I am sure that he would like to hear from you folks, his address is as follows:
Stan Richardson
Westchester Gardens Rehabilitation & Care Center
Clearwater, Florida 33761
1-727-789-5143
Mary Jane Lewis sent along a note and said that Jim is progressing very slowly from his hip operation. His physical therapy has now become limited which has caused him to remain very, very, immobile. Hopefully more positive reports will be forthcoming on his recovery.
John Aymen has reached a recovery point wherein it is thought that he can leave the Nursing Center. He is better than he was and he shows signs of getting stronger. Although it was thought that he would be home by now his release date from the Nursing Center hospital was extended a few weeks. He should be home though by the time this letter is received by All Hands.
It is anticipated that he will have a walking problem and will have to endeavor to ward off infection attacks. A wheel chair will be available for him to use when he feels that he has to take a rest from endeavoring to walk.
Hopefully he will be able to get his appetite on the upward swing on his return home.
John sends his regards to all through his wife's telecon with me.
---
Don't forget our "MYSTERY PICTURE." I was able to get in touch with Milt Schatan and he said that he would like to see the picture and try to identify the island location and the personnel. The picture went out to him in the next mail.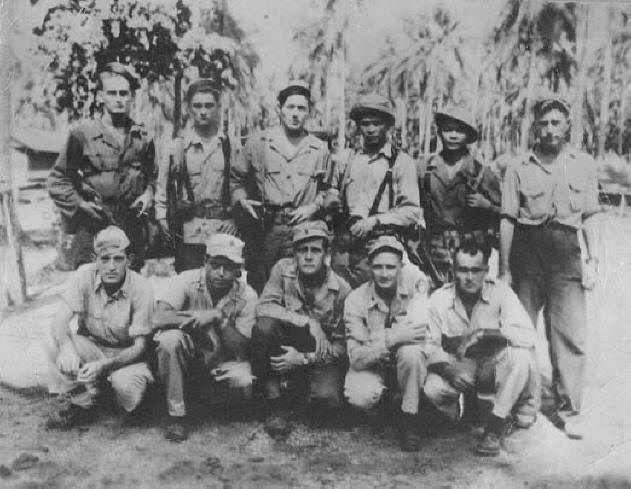 ---
WEB NEWS
Our Webmaster has been upgrading the quality of our website to give it a more professional appearance. This upgrade program is still in process and all members will be able to notice the change in appearance.
The format of the entire website has been redesigned to give it a more professional appearance. This was accomplished with the initial assistance of a group of web developers in New Zealand who offered their help. Using their concept on the page layout a rather laborious process of re-doing each page of the website was accomplished by using a new template. Although this process is not yet complete, 75 percent has been completed. The remained should be completed within a few more weeks.
These changes will make the website more friendly to all browser platforms. Our website is now one of the best web sites throughout the world as it now conforms to the standards of the World Wide Consortium (W3C) for Hyper-Text Markup Language (HTML) and Cascading Style Sheets (CSS).
Reunion photographs from our 2006 Chattanooga Reunion may also be be viewed on our website.
The pictures were provided by Robert Klinke and Doc Protheroe and are excellent photographs and are greatly appreciated.
The final item that was added a few months ago was the "VMB-613 Semper Fidelis Awards Program". This program serves to recognize other web sites and their respective webmasters for their outstanding efforts in presenting military and/or naval subject matter in an outstanding manner.
Those deemed worthy receive a small VMB-613 graphic image for display on their websites. J.D. Garls has been assisting Robert Yanacek in the evaluation of each award application.
A number of new photographs will be added to the website in the very near future. These pictures were submitted by Robert Klinke and the Marines in the photographs were identified by Doc Protheroe.
Our WEB Site was contacted by an airplane model builder in Salzburg, Austria by the name of Rene Hieronymus. He located our Web Site and says a great job. He just wishes that more squadrons would do such magnificent work to keep their history alive.
He is a model builder specializing in U.S. Navy and U.S. Marine Corps aircraft and Aircraft Carriers. About five years ago he finished a model and just sent us a picture of it. This model is of a PBJ-1H at a very low level attacking Japanese Kaibokan/Escort/Subhunter.
Our Webmaster and Historian Robert Yanacek has sent him some follow up history of our squadron so that he can continue his effort towards making more models of aircraft in action against the enemy.
---
Remember that our new fiscal year started in January 2006. If there isn't an (06) or higher two digit number appearing after your name on the mailing label on your envelope you should mail a check to us made out to VMB 613 in the amount of $20.00 for payment of dues.
Note: (05) denotes 2005, (06) denotes 2006. Many thanks to the members who have already sent in their dues checks.
---
SQUADRON MEMORABILIA
THE LIMITED EDITION COLLECTORS ITEM, the squadron logo hat pin is still available for VMB 613 members and friends. This pin is an inch in diameter and comes in a pewter finish or gold plated with a hand painted finish. The colors are similar to the colored logo that was mailed out several months ago. Marine Corps Scarlet Red background, Gold Wings, Black Cannon and Maces. Plus it is made in America.
| | |
| --- | --- |
| Pewter finish logo hat pin - $4.50 | Hand painted finish logo hat pin - $5.50 |
USMC Heat Transfer Kit. Has 6 large insignias and 6 small insignias. Can use on caps, T shirts or any other cloth item. These kits are $3.95 each.
We still have the small VMB 613 number plate for the rear window at $5.00 each. These now can be ordered with either a WHITE or RED background.
The regular size VMB 613 license plate complete with mounting hardware is now available on special order for $20.00.
These memorabilia items can be ordered from Charlie Knapp.
This is all for now. Stay healthy.
For security reasons, changes to the roster are not available on-line. Please contact Charlie Knapp for address information.
Note: Please check your address on the listing and let me know of any required corrections. Some messages have been returned with a comment "unknown address."