MARINE BOMBING SQUADRON SIX-THIRTEEN ASSOCIATION
45 Verano Loop
Santa Fe, NM 87508-3151
(505) 466-6549

6 April 2009
Memo To: All Winter Marines
Had a great conversation with Robert "Bob" Longenberger who reported that he is still kicking and can't complain about anything. On his next visit to his son's home he is for sure going to ask him to pull down the VMB 613 Computer Web Page High Lights.
Robert mentioned that when he signed up in the Corps the Recruiting Team Members made him part of their Recruiting Team and many pictures of him appeared in the Philadelphia Enquirer.
He remembered the George W. Julian quite well also. The minute he got close to the ship he was suddenly put in charge of a few work details by the Captain's 1st Mate.
I can remember seeing him in the pier area, including warehouses, where the Julian was tied up checking the size of boxes and the special markings. This effort was necessary to assure that VMB 613 wouldn't lose equipment to other ships being loaded in the same vicinity.
Although he still has his own file of pictures of Kwaj he would like to see what our Web Master Robert Yanacek has been able to put together. He is sure that Robert put a lot of planning into the presentation so that it is an outstanding presentation of VMB 613 from start to finish. He is still knowledgeable of the VMB 613 Web Page. When he visits with his daughter she turns on the computer so that he can continue to refresh his memories of VMB 613.
Received a great letter from Alan Protheroe (March 23, 2009). I am sending along a lot of the verbiage from his letter wherein he reported that the Florida International Air Show came to Punta Gorda this weekend as it does every year at this time. Every one looks forward to the show for all know that the Navy Blue Angels highlight the event. They are in town for four or five days, practicing and then doing their formal air acrobatics on Saturday and Sunday... Spectacular!
As you would expect there were a number of side shows and old and new aircraft on display. Hard to believe, but planes of World War II are now just considered vintage antiques and as we all age we fall into that category too. Fortunately, at least one B-25J was able to make the show with the pilots and crew honored at a reception at our Military Heritage Museum. The plane was "Panchito" which I had been aboard a number of times in the past.
It was an eventful week here and made much more enjoyable by a visit here with Swede and Jennie Ohlson. Good conversation over lunch and you must know much concerning our youth with VMB 613.
The Ohlsons are both well and you wouldn't know it by looking at Swede, but he recovered from two total knee replacements in short order.
Bob Polakowski's daughter, Joan, as reported before had to give up required planning for the 2009 reunion but has switched all effort now to the year 2010 reunion due to demanding matters that took precedence.
She is still definitely willing to head up the reunion and all her planning from now on will be for that year. She will be very glad to receive any and all e-mails on members recommendations to make the reunion an outstanding event.
Bob Polakowski reported that Helen is doing fine considering what she has been going through. The doctor has postponed surgery for a few more weeks.
In last months letter it was mentioned that our reserve funds for special contributions were getting low. I wish to thank the members for remembering this fact. Some members have dropped me notes saying that they had remembered to make their contributions.
---
TAPS
We just received word from Gretchen Keel, George Comer's niece, informing us that George Comer passed away at the age of 89 on January 24, 2009.
George was our Leading Chief and had been living in Florida following his retirement from the Marine Corps. However in March 2008 George moved to a nursing home in Beckley, WV so that he could be closer to his remaining family.
George was buried on January 28th with local VFW and American Legion members providing full military honors.
---
WEB NEWS
Our webmaster had a busy month, and answered numerous inquiries about the squadron. He received a number of inquiries that may be of interest to members.
The first inquiry was from former Kwajalein resident and scuba diver, Bill Remick. Bill sent along an aerial photo showing the southern end of Bennett Island. Bennett Island was to the north of Kwajalein and was the location where squadron members were taken for R&R. The photo shows the pier and recreation area, and on the southern tip of the island, 9 to 10 fuel storage tanks. This photo is below. Bill was wondering if any squadron members recalled those fuel storage tanks?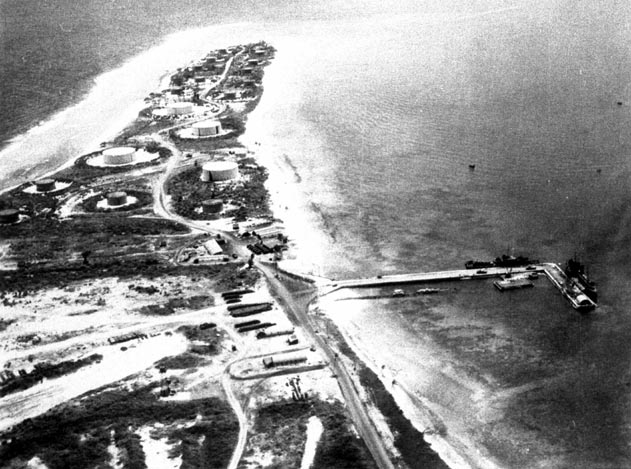 He reported that when he visited Bennett Island many years ago, the fuel storage tanks were no longer there and areas at the south end of the island were covered in hardened oil sludge. As a result of this contamination, it was decided not to clean up the mess and re-inhabit the island.
Bill Remick mentioned that he received various photographs in the past from Farley Lund and John Gavin. He forwarded these photographs to Robert and they are now part of our website. The photos included shots of the airstrip and flight line on Kwaj and a number which showed the squadron's PBJs being stripped of their engines and other components on Roi at the end of the war.
Robert also received an inquiry from Michael Bemis, son of VMB-613 radar-repairman and he recalled that his Dad went to the VMB 613 reunion that was held in Minneapolis, shortly before he passed away. Michael and his sister asked that if any squadron members have photos of the 2000 Reunion in Minneapolis they
would really appreciate receiving copies or a scan of the photographs. Michael can be contacted at bmster@sbcglobal.net for those with e-mail access.
Robert's last inquiry was from Nathan LaRicca grandson of VMB-613 radio technician Dale Faith. Having an interest in his family's history, Nathan discovered our website after his grandmother informed him that his grandfather was a member of VMB 613. Nathan enjoyed reading about the squadron and looking at many photos on the website. He hoped that he might even be able to speak with a member who personally knew his grandfather.
Following a series of e-mails to our webmaster, Nathan was given the phone number of Jim Garls. Nathan contacted JD and along with Dale's widow, Dorothy, and enjoyed a 45 minute conversation about Dale, the various squadron activities, and life on Kwajalein. Nathan reported that both he and his grandmother really appreciated and enjoyed the conversation with JD.
Nathan, may be contacted via e-mail at: nathan.lariccia@gmail.com
---
Remember that our new fiscal year started in January 2009. If there isn't an (09) or higher two digit number appearing after your name on the mailing label on your envelope you should mail a check to us made out to VMB 613 in the amount of $20.00 for payment of dues. Many thanks to those members who have already paid their dues.
Note: (08) denotes 2008, (09) denotes 2009. Many thanks to the members who have already sent in their dues checks.
---
SQUADRON MEMORABILIA
THE LIMITED EDITION COLLECTORS ITEM, the squadron logo hat pin is still available for VMB 613 members and friends. This pin is an inch in diameter and comes in a pewter finish or gold plated with a hand painted finish. The colors are similar to the colored logo that was mailed out several months ago. Marine Corps Scarlet Red background, Gold Wings, Black Cannon and Maces. Plus it is made in America.
| | |
| --- | --- |
| Pewter finish logo hat pin - $4.50 | Hand painted finish logo hat pin - $5.50 |
A new item is the license plate frame. It is a composition material (special plastic) with a red background and gold lettering. The top of the frame has U.S. MARINES and the bottom VMB 613 WWII. The cost is $5.00 INCLUDING PACKING AND SHIPPING.
USMC Heat Transfer Kit. Has 6 large insignias and 6 small insignias. Can use on caps, T shirts or any other cloth item. These kits are $3.95 each.
We still have the small VMB 613 number plate for the rear window at $5.00 each. These now can be ordered with either a WHITE or RED background.
The regular size VMB 613 license plate complete with mounting hardware is now available on special order for $20.00.
We are out of stock on the Red VMB 613 caps. Efforts are in process to find a qualified organization to supply us with a restock of the caps.
These memorabilia items can be ordered from Charlie Knapp.
Here is a VMB 613 Special from McGrogan's Patch Design. A cloth patch five inches in diameter which is the standard WWII size. This is the VMB 613 squadron logo patch in color. The cost to VMB 613 members is $3.50 per patch. Order direct from the following address:
McGrogran's Patch Design
PO Box 2254
Hayden, ID 83835
Website: http://www.mcgrogans.com
Please continue the notes or letters all of which help to make the monthly letter more interesting.
This is all for now. Stay healthy.
Semper Fi,
Charlie
---
ROSTER CHANGES
For security reasons, changes to the roster are not available on-line. Please contact Charlie Knapp for address information.
---
VMB 613 E-MAIL DIRECTORY LISTING
A directory of e-mail addresses for members is available on-line in a password protected area of the site. Please contact our webmaster to obtain your password.
Note: Please check your address on the listing and let me know of any required corrections. Some messages have been returned with a comment "unknown address."