Memo To: All The Super Patriots
NOTES FROM MEMBERS
Chico Duarte says hello and regards to all. He was interested in reading of the squadron's sea going trip to Kwajalein and mentioned that several of the air crews went over seas on a Baby Flat Top thus they missed the pleasure of the George W. Julian.
He returned to the present and said that the weather has been very, very cold but he still gets up and over to work at the store on a daily basis. He puts in six hours at the store and then returns home to do various required tasks to keep the family well nourished.
The remnants of the ice storms in his area are something that he wishes would disappear because they encourage the snow to stay around which makes walking and driving a little dangerous.
Nick Bozic called to let us know that he suffered a severe stroke on New Year's and was in the hospital for six weeks. At time of calling he had been home for about two weeks and is coming along now. His daughter has been taking him to the hospital for several tests which include monitoring his blood pressure.
His body remains very weak and he couldn't write so he called to alert us as to his medical problem. He travels in a wheel chair or walker, his right leg is very weak.
Diet wise he has to watch what he drinks and eats and keep track of his blood pressure and heart beat. His heart beat appears to be irregular so he remains under home therapy. He is of the opinion that his body is getting stronger.
Received a message from John Kennedy who sends his best to all. He mentioned reading about RL Marx's problem with carpal tunnel syndrome and related it to his problem with his right hand and left hand.
He had both hands operated on by an outstanding doctor and passed on some info for me to give to RL if he is still in need of further treatment.
Chuck Cannato called and sends his best regards to all. He enjoyed seeing the picture of Waxie Prankard and said that it brought back a lot of memories. It was the first time he had seen a picture of Waxie in years. He said that he missed the old views of Waxie, more hair etc.
Nick Dudo sends his best regards to all. He reports that he is getting along alright, slowly though.
His artificial hips are fine but his back isn't. Sections of his back are giving him problems plus he has an abdominal aeortic aneurism that has to be taken care of. He has appointments with the MD's to review and determine what course of action is required. (Note there are some spelling errors that my dictionary wouldn't help me with)
One good thing he reported on was that the weather has been fantastic no snow at all, only 4 inches so far at the time of this writing.
Foster Cummings says hello and regards to all. They are getting over the worst winter they have experienced in years and he hopes that the weather doesn't try to repeat any storms before it leaves the area for good.
In reading one of the Boston news papers he found a write up concerning the Town of Marbelehead, MA. Ninety four years ago Lieutenant Alfred A. Cunningham grabbed the stick of a rickety, "two-wing hydroplane" puttered out into the sky and became the first aviator of the United States Marine Corps.
Today, the "birthplace of Marine aviation," as the park has been designated by the U.S. Government is maintained year round in immaculate condition through the efforts of a former Marine and a few volunteers who donate time and money to their labor of love.
You can read more in the newspaper article which is part of this newsletter.
Received word that John Aymen had to go to a nursing home due his falling out of chair. Although it was only a small fall the medical personnel felt that he should be checked periodically since they determined that he didn't have enough oxygen in his system. He had to have a pace maker installed. This occurred around the 1st of February.
It was also determined that he had signs of Parkinson Disease and they are waiting for a Medical Analysis to confirm this fact.
John has also developed problems walking by himself which the medical personnel want to carefully analyze.
Don McCune sends his best regards to all. He turned 91 on January 8th and as such he isn't doing much traveling, he quit working two years ago.
Now he spends much of his time reading and watching the history channel and enjoying his stamp collection. These are things that he never had time to do when he was working. He said that he does enjoy hearing from his fellow Marines.
Bob Litzau sends his regards to all. He reported that the only news with his area of the country is big time heavy winter snows - wind- drifts, white outs, and about two weeks of sub zero, freeze and wind drifts. He had to use a snow rake to remove 2-3 feet of snow from their west roof.
Bob's son gave him a book which he says is a must read for any one who spent time on the blue Pacific. The title is Halseys's Typhoon. It is a true story of an epic storm and untold rescue in a 1944 tragedy - survival and heroism - 90' waves, destroyers turned brittle and one other broke in half.
He is of the opinion that every library in the country ought to get a copy.
Kim Haddix the granddaughter of Frank Haddix is writing a senior research paper as the last assignment prior to graduating from college. She has read several articles on the legacy of Ernie Pyle and was wondering if any members of VMB 613 remember his stopping off at Kwaj and if they can recall any attributes that she could use in her paper on Ernie.
If you can e mail them to Kim Haddix, rokster14@aol.com, or send them to me and I will get them delivered to her. In advance many thanks for your efforts.
---
TAPS
Condolences from squadron members:
From the family of Dr. Frank J. Carthey. Frank passed away on February 17, 2007 due to problems arising from liver cancer. He was 82 years old at the time of his passing.
Frank had practiced medicine for nearly 40 years in New Ulm after graduating from the University of Minnesota Medical School. He then took a teaching position with a specialty in family practice at the University of Minnesota Medical School. In 1975 he and his family returned to New Ulm where he continued practicing medicine until his retirement in 1990.
---
HEALTH REPORT
Received an update on Stan Richardson from Peach Richardson. She said that he is still about the same as we mentioned last month being limited by his breathing problem which limits his time to stay up and move about. Other wise he is alert and seems to be content. Stan is still physically limited to how far he can walk and really has to watch it.
He continues to feel stronger and endeavors to try physical activity such as walking by himself (again paying close attention to the walking distance). A guide remains in contact to assure that he doesn't lose his balance etc.
I am sure that he would like to hear from you folks, his address is as follows:
Stan Richardson
Westchester Gardens Rehabilitation & Care Center
Clearwater, Florida 33761
1-727-789-5143
---
Don't forget our "MYSTERY PICTURE." I am still waiting to hear from a few more members who are reviewing the picture. Several members did respond to my most recent special mailing and they reported that they couldn't recognize the location of where the picture might have been taken. They also said that they checked their own albums but couldn't establish any connection to the picture.
Could this picture have been taken in Hawaii? I ask this of pilots because the Squadron War Diary refers to the fact that all pilots received additional training in survival and resisting interrogation while they were at Hawaii.
Please check your memory banks and see if they fit in with the picture.
I did receive a short note from one of the members who found another envelope of notes and some pictures and have been informed that members are still searching their files to see if they can locate any information on the picture.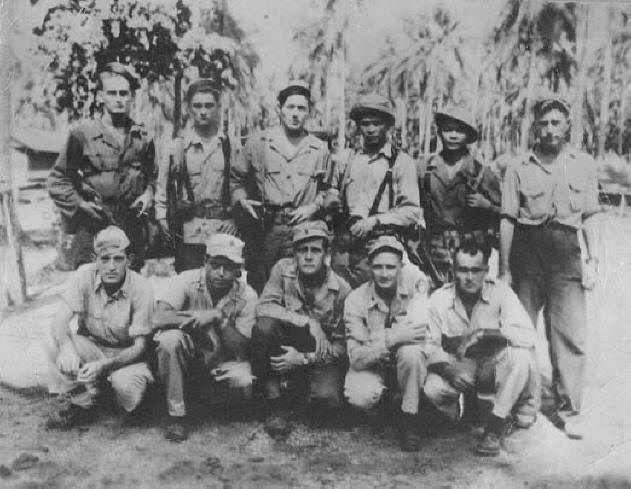 ---
WEB NEWS
Our webmaster Robert Yanacek received an e mail from Frank Vanek's daughter, Mary Vanek. If members who new her Dad want to send her any messages get in touch with Robert and he will forward them onto her.
Mary enjoyed reviewing the VMB 613 Website and she now has two more pictures of her Dad.
Frank passed away in 1958. He was living in Amarillo, TX stationed at the nearby Air Base. She didn't get the opportunity to ask questions due to age etc.
She does remember hearing that her Dad was a Private First Class and his ball team the Trojans won the Baseball tournament in 1945.
She said that her Dad was on the Pit Crew of a car at Le Mans in France in the early fifties. Any thing that members can pass onto her regarding her Dad would be appreciated.
Our webmaster also heard from a son and a granddaughter of VMB-613 members. They made the below entries in our on-line squadron log-book. Feel free to write to them should you be moved to do so.
Name: Jennifer Brady
From: New Jersey
E-Mail: badyjc3@hotmail.com
Thank you so much for the wealth of information you provide on this sit e. My grandfather, Edmund Zitkus, was a photographer for the 613, and it's wonderful to finally put faces to the names and places that I've heard much about. I think it's very important for younger generations to learn about the experiences and sacrifices of the servicemen who fought during such a fascinating and turbulent time in history. Your website definitely helps complete the stories I vaguely remember hearing about as a child. Thanks again.
Name: Donald J. Taft
From: Wisconsin
E-mail: taftvideo@sbcglobal.net
My dad was a member of the 613. I was thinking about him after watching Flags of our Fathers and felt compelled to search out the 613. I grew up in a Marine home and was fortunate enough to not have to serve. I am passing the Marine values my father taught me on to my two boys and never allowing the sacrifice of all Marines to be forgotten. May God continue to bless this, the greatest country on earth.
---
Remember that our new fiscal year started in January 2007. If there isn't an (07) or higher two digit number appearing after your name on the mailing label on your envelope you should mail a check to us made out to VMB 613 in the amount of $20.00 for payment of dues.
Note: (06) denotes 2006, (07) denotes 2007. Many thanks to the members who have already sent in their dues checks.
---
SQUADRON MEMORABILIA
THE LIMITED EDITION COLLECTORS ITEM, the squadron logo hat pin is still available for VMB 613 members and friends. This pin is an inch in diameter and comes in a pewter finish or gold plated with a hand painted finish. The colors are similar to the colored logo that was mailed out several months ago. Marine Corps Scarlet Red background, Gold Wings, Black Cannon and Maces. Plus it is made in America.
| | |
| --- | --- |
| Pewter finish logo hat pin - $4.50 | Hand painted finish logo hat pin - $5.50 |
A new item is the license plate frame. It is a composition material (special plastic) with a red background and gold lettering. The top of the frame has U.S. MARINES and the bottom VMB 613 WWII. The cost is $5.00 INCLUDING PACKING AND SHIPPING.
USMC Heat Transfer Kit. Has 6 large insignias and 6 small insignias. Can use on caps, T shirts or any other cloth item. These kits are $3.95 each.
We still have the small VMB 613 number plate for the rear window at $5.00 each. These now can be ordered with either a WHITE or RED background.
The regular size VMB 613 license plate complete with mounting hardware is now available on special order for $20.00.
These memorabilia items can be ordered from Charlie Knapp.
This is all for now. Stay healthy.
For security reasons, changes to the roster are not available on-line. Please contact Charlie Knapp for address information.
Note: Please check your address on the listing and let me know of any required corrections. Some messages have been returned with a comment "unknown address."