MARINE BOMBING SQUADRON SIX-THIRTEEN ASSOCIATION
45 Verano Loop
Santa Fe, NM 87508-3151
(505) 466-6549

4 April 2006
Memo To: All Super Patriots
By now all should have received the initial release of information relative to the Year 2006 Reunion which will be held in Chattanooga, TN at the Choo-Choo Holiday Inn Complex from Wednesday, October 18, 2006 through Saturday October 21, 2006 with Check Out on October 22, 2006.
For those members who have access to the Internet, the Reunion information is also available on our website.
This information will be updated periodically as required.
All family members in addition to the squadron members are welcome to attend the reunion.
In reviewing the Reunion web page several hits were observed which indicates that members and guests are taking advantage of the information contained therein.
Some members have already sent along words to the effect that they will be there and we hope that many more will also follow.
---
Cliff Willis sends regards to all. He also remembered the B-29's at Kwajalein and can to this day see the wings of the Dauntless Dotty and another B-29 sticking out of the water before they continued on into the ocean waters. Since these accidents occurred after the re-paving of the main run way he always has been of the opinion that the runway should have been paved a little higher. The planes were not high enough on take off and their wheels hit the water causing the aircraft to crash.
We also discussed the movement of VMB 613 personnel to the states via various ships. He mentioned that he was transferred to Wing and when he did move back to the states he went in style aboard an aircraft carrier.
Brooks Kaufman sends his best regards to all and for all to stay healthy. He found several photographs of VMB 613 PBJ1Cs that he took while on the way to Havana on March 19, 1944 and sent them to me. I have forwarded them to the webmaster for inclusion in our web page.
Vern Beggs sends regards to all. He was glad to get the message regarding the reunion and passed it onto his son Rick. Rick knows where the Chattanooga Choo Choo Holiday Inn complex is located and he is making plans for Vern and Ann to get there. He also plans to attend and possibly some other family members.
Herb and Sue Haroldson send their regards to all.
Bob Brueggestrass sends greetings from the Texas Pan Handle where all is well. Then almost the next day after hearing from him, I all read in the newspapers was big range fires out of control in the Texas Pan Handle region. By now they should be pretty well under control.
The son of Robert Klinke has been in touch with Lloyd McDaniel who was his Dad's fellow Radio-Gunner. He has also checked out the page on the reunion. Robert's e-mail address is in the logbook should any members who knew his Dad want to get in touch with him.
A friend of VMB 613, Eric Sperger (a Marine who is doing research on VMB squadrons), found some additional names of our aircraft and we are now up to ten of VMB-613's fifteen aircraft as follows: 8-Ball, Betty-Lou, Bung-Ho!, Fireball, Flaming Fury, Green Weenie, Long Gone, Love Bug, Miss-Carriage, and Pregnant Annie. There is a possibility that one of our planes had the name "Ladders Up" and this is being investigated. If it turns out to be correct, we will be up to eleven names.
Eric Sperger also sent along a copy of a VMB 613 newspaper article - Cherry Point 27 July 1944. This article will be an attachment to this newsletter. It details some air crew activity on a two hour flight on an H Model PBJ. This article was written and published just prior to our move to Newport.
John Gavin sends his best to everyone. His weather report was that it has been a great winter, warmest January in history and at the time of writing the temperature was 58 degrees. He has cut down on his woodworking projects and is now getting into wood carving. Still has a lot to learn he said. He received a letter from Stan Inman that contained a fantastic ring story. John is keeping a collection of these stories that Stan has been able to come across.
Nick Bozic says hello to all. He reported that he is just struggling along and takes great care not to fall while walking. As a safety precaution he brings along a walker in his car just to have assistance for walking after getting out of the car to walk some where, he will at times use a cane. Elevators and ramps he caters to rather than stairs.
We had a great time reminiscing about the squadron and the different events that occurred keeping the aircraft operational. He came across his own Air Craft Log Book recently and it brought back a lot of memories. In fact the aircraft name was 8-Ball. He said that he kept track of all the actual flight hours on the engines and kept meticulous notes on various equipment packages, all to make sure that equipment could be or would be changed per the manual.
Joe Yakawich says hello to all and reported that he is still hanging in there. He is continuing to remain active with his airplane production activities and is presently involved with the production of a 40" scale P-38. He endeavors to get in a little fishing when he is of the opinion that there are some hungry fish out there waiting to be caught. His weather report was that the area weather is clear and cool with just a little snow. This has allowed him to get out of the house to walk around and get his daily exercise. Since his dog likes to get out he takes him on the walks.
Spoke to John "Chico" Duarte who reported that everything is going OK with the exception of his hip acting up periodically. When this happens it limits his mobility for awhile and then every thing goes back to normal.
He continues to work part time at the general store doing the required administrative work and getting things prepared for the regular personnel to take over for the day after he leaves. At home he received some good news from the bank when they surprised him and told him that he had paid off his entire mortgage so he is now a member of the landed gentry.
Since it was too early to start any gardening he has been busy doing interior painting and hopes to have it finished before he has to start tilling the soil and planting the crops. He had an opportunity to get in touch with Gene Miller and had a great conversation with him. Chico sends his regards to all.
Jim Garls sends regards to all. He sent along a weather report for his section of the country which had a lot of serious storm warnings advising of Tornado Watches and Severe Thunderstorms but nothing serious developed. They did have a bit of rain and high winds but not the supply of moisture that they need. Without any rain they will have poor crops this season. He gave me some technical advice to get my electronic garage doors moving again and I was successful in doing the trouble shooting. The garage doors now go up and down electronically vs. only going up before the trouble shooting was completed.
His area is all basketball now that the collegiate basketball playoffs are in vogue. He hopes that his picks will survive the series.
Jack Schwertfager sends regards to all. Things are well in his area of North Carolina and the weather remains almost warm enough for him to get some golf in.
Chuck Cannato says hello to all and that everything is OK, they are enjoying life. They have been living in Conn. for a few years which gives them the chance to be close to family and is also close to Cape Cod which they left after several years of retirement if they feel like visiting relatives and friends there and seeing the ocean shore again.
He doesn't have his computer hooked up to pull down the WEB page but a grandson did pull it down and was enthused to read about VMB 613.
Bob Longenberger sends his regards to all. He said that he keeps moving, no heavy work, just enough to busy mentally and stay healthy. He also remembers the tail of a B-29 that stuck out of the ocean for quite a while prior to going under and out of sight. We spent some time reminiscing about the Motor Transport Yacht which was rehabbed from an old Japanese Dory. They spent many an hour going around the lagoon checking out the various islands and even going fishing from it.
Foster and Doris Cummings, and Joseph and Rita McDonald attended the reviewing at the funeral directors and the funeral services at church for John Siergiewicz following which they attended the collation. At the church service the organist played several religious hymns followed by the Marine Corps Hymn. Foster and Joseph stood up during its rendition. Afterwards they realized that they were probably the only ones who did so.
Cliff Dotson passed on his regrets on the passing of John Siergiewicz and said that he remembers him well and that they shared a bond being First Mech's on their assigned aircraft.
---
TAPS
Condolences from squadron members to the family of John Siergiewicz who died on March 4, 2006 after a lengthy battle with cancer.
---
HEALTH REPORT
John Aymen was able to return home from his stay at the Rehab Center. He is continuing to have therapy treatments at home and hopefully his strength will return. Right now he is grounded and can't drive so he is endeavoring to get the necessary strength to be able to drive. His system has become dehydrated and that is the major item they are working on to alleviate the problem.
Harlan Jason says hello to all and he is doing well. He has been released from the Nursing Home where he was recuperating from a severe fall that injured his shoulder and limited his ability to move about. He does use a walker occasionally but no chair support. He is now living in the Old Soldiers Home at Fort Snelling, MN and reported that his shoulder is feeling OK so his arm movement is no longer limited which means he can use the arm well. The only drawback is no more football. Various programs are available for the veteran residents which keeps them mentally and physically alert. He hopes to be able to get into the fishing routine when they start the program for the new year and a few other programs that are available to keep them moving.
---
Don't forget our "MYSTERY PICTURE." I am still waiting to hear from members who are reviewing the picture.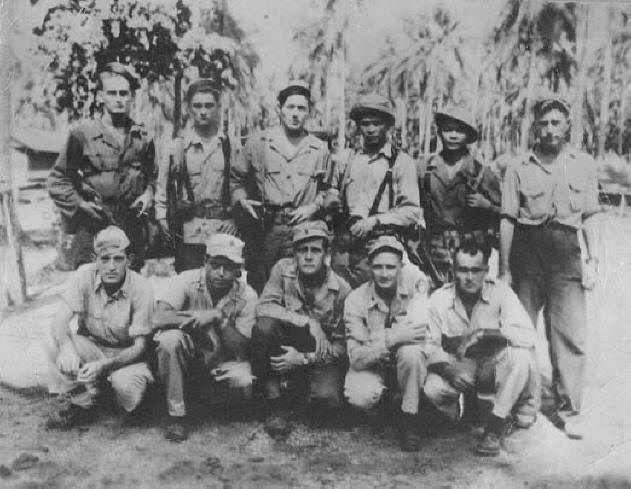 ---
WEB NEWS
Family members of deceased Marines inquired of me where they could write to get replacement medals.
Robert Yanacek sent along the following web addresses that members can use for applying:
http://www.archives.gov/veterans/military-service-records/replacement-medals.html
https://www.hrc.army.mil/site/active/tagd/coldwar/default.htm
Robert Yanacek has been reviewing the muster rolls in his possession and making corrections as required on the VMB 613 Personnel Rosters.
The hits in the website have gone up significantly since VMB 613 was added to the links pages of the National Museum of the Pacific War, the Marine Corps Aviation Association and the Flying Leatherneck Aviation Museum and Historical Foundation.
The Air Force family members who are still involved in the search for the Dauntless Dotty reported that they are making some progress in preparing for their search. They notified us that they really appreciate the efforts of the Marines of VMB 613 in forwarding their information to them.
---
Remember that our new fiscal year started in January 2006. If there isn't an (06) or higher two digit number appearing after your name on the mailing label on your envelope you should mail a check to us made out to VMB 613 in the amount of $20.00 for payment of dues.
Note: (05) denotes 2005, (06) denotes 2006. Many thanks to the members who have already sent in their dues checks.
---
SQUADRON MEMORABILIA
THE LIMITED EDITION COLLECTORS ITEM, the squadron logo hat pin is still available for VMB 613 members and friends. This pin is an inch in diameter and comes in a pewter finish or gold plated with a hand painted finish. The colors are similar to the colored logo that was mailed out several months ago. Marine Corps Scarlet Red background, Gold Wings, Black Cannon and Maces. Plus it is made in America.
| | |
| --- | --- |
| Pewter finish logo hat pin - $4.50 | Hand painted finish logo hat pin - $5.50 |
A new item is the license plate frame. It is a composition material (special plastic) with a red background and gold lettering. The top of the frame has U.S. MARINES and the bottom VMB 613 WWII. The cost is $5.00 INCLUDING PACKING AND SHIPPING.
USMC Heat Transfer Kit. Has 6 large insignias and 6 small insignias. Can use on caps, T shirts or any other cloth item. These kits are $3.95 each.
We still have the small VMB 613 number plate for the rear window at $5.00 each. These now can be ordered with either a WHITE or RED background.
The regular size VMB 613 license plate complete with mounting hardware is now available on special order for $20.00.
We have a limited number of Red VMB 613 caps, the cost is $10.00 each and are being sold on a first-order, first-serve basis.
These memorabilia items can be ordered from Charlie Knapp.
Here is a VMB 613 Special from McGrogan's Patch Design. A cloth patch five inches in diameter which is the standard WWII size. This is the VMB 613 squadron logo patch in color. The cost to VMB 613 members is $3.50 per patch. Order direct from the following address:
McGrogran's Patch Design
PO Box 2254
Hayden, ID 83835
Website: http://www.mcgrogans.com
Please continue the notes or letters all of which help to make the monthly letter more interesting.
This is all for now. Stay healthy.
Semper Fi,
Charlie
---
ROSTER CHANGES
For security reasons, changes to the roster are not available on-line. Please contact Charlie Knapp for address information.
---
VMB 613 E-MAIL DIRECTORY LISTING
A directory of e-mail addresses for members is available on-line in a password protected area of the site. Please contact our webmaster to obtain your password.
Note: Please check your address on the listing and let me know of any required corrections. Some messages have been returned with a comment "unknown address."