Marine Bombing Squadron Six-Thirteen (VMB-613) was officially commissioned on October 1, 1943 at Marine Corps Air Station (MCAS) Cherry Point, North Carolina and attached to Marine Aircraft Group Sixty-One (MAG-61), Third Marine Aircraft Wing (3rdMAW). Assuming temporary command on that date was Captain Robert C. Woten, USMCR, of Oakland, California.
On November 16, 1943, following his recent return from an overseas tour of duty with Marine Air Group Twenty-Five (MAG-25), Major Harry F. Baker Jr., USMC, of Minneapolis, Minnesota was assigned to VMB-613 as the commanding officer. Following assumption of command, Major Baker assigned Captain Woten as the squadron operations officer, and Major David M. Danser, USMCR, of Philadelphia, Pennsylvania, as executive officer. Arriving to the squadron on the same day was First Lieutenant George L.F. Allen, USMCR of Pharr, Texas, who was assigned to duty as the engineering officer. Also arriving was a complete complement of pilots from Headquarters Squadron Sixty-One, all of whom had just completed operational training. Although a few of these pilots had come from Operational Training Squadron 8 (OTS-8) where they had trained flying PBJ-1s, the majority had come from bases in Florida where they had trained on PV-1s, PBYs, or R4Ds. Following their arrival, they met the Commanding Officer who subsequently assigned the majority of them with additional ground duties.
Within a few days, the squadron began to take shape as enlisted personnel were slowly beginning to arrive from Group Sixty-One. With this small complement of officers and men, work began in earnest on a training syllabus with PBJ-1Cs secured from Headquarters Squadron, MAG-61. The training program for pilots began with familiarization flights and check-outs in the PBJ-1 aircraft. Majors Baker and Danser flight checked all pilots, and a crew list of pilots and copilots was prepared. With the arrival and assignment of a few radiomen, training began in fixed and free gunnery, skip-bombing, instrument training, night flying, and formation flying. The formation work began with three-plane section tactics, and when sufficient aircraft became available, division and squadron tactics were practiced. On one memorable occasion Major Baker, hampered by the inexperience of his pilots and light fog, led a nine plane night bombing strike against the Raccson Island target. All aircraft returned safely with nothing more than a few shaken crewmembers.
By January 1944, squadron morale had climbed and all members were anticipating an early move to the Pacific. Throughout the month the squadron continued to receive additional personnel to fill its Table of Organization (T/O). An adjutant, Second Lieutenant Arthur H. Navarre, USMCR, of Toledo, Ohio, and an ordnance officer, Second Lieutenant James L.V. Newman, USMCR, of Cold Spring Harbor, New York were assigned. The assignment of these two subsequently relieved some of the pilots of their tedious ground duties. Additionally, Major George W. Nevils, USMC, of Hopewell, Virginia was assigned to VMB-613 as the squadron executive officer. Major Nevils assignment to this billet necessitated shifting Major Danser to operations officer, and Captain Woten as assistant operations officer. Since radar would be vital to the squadron's effectiveness, an ACG technician was assigned to getting the radar department functioning. During the month the squadron also suffered its only non-combat related death on the morning of the 23rd when Private First Class John D. Sintich was struck and killed by the propeller of a taxiing SNJ that had approached him unseen from the rear. Private First Class Sintich was killed instantly.
During February training flights continued with an emphasis on gunnery, navigation, bombing runs, and night flying. By the addition of seven PBJ-1Ds from the Aircraft Modification Center in Omaha, Nebraska, the squadron now had its full complement of 15 aircraft when it received orders from 3rdMAW to proceed to Naval Air Station (NAS) Boca Chica, Florida for torpedo training. All preparations were made for the move, and a small detachment was assigned to maintain the squadron office at MCAS Cherry Point. With the preparations complete the movement to Boca Chica began on February 26, 1944.
The pilots departed in three echelons for NAS Fort Lauderdale, Florida, the first two transported by R4Ds while the last one flew the squadron's PBJ-1s. Upon their arrival at NAS Fort Lauderdale, all pilots received a day of lectures and training in link-trainers on how to use their sights for dropping the aerial torpedo. Following completion, the pilots then flew to NAS Boca Chica, arriving at the same time as the remainder of the squadron who had been transported by bus.
OFF DUTY: Four VMB-613 squadron members enjoy some well-earned liberty following their completion of Navigator-Bombardier school at Quantico, VA in 1943. Those pictured are (L-R): Technical Sergeant David A. Morrell, Technical Sergeant Clarence J. Julich, Technical Sergeant William A. Kehr, and Technical Sergeant Michael J. Brennan.
Photograph: Marine Bombing Squadron Six-Thirteen (Courtesy of William A. Kehr)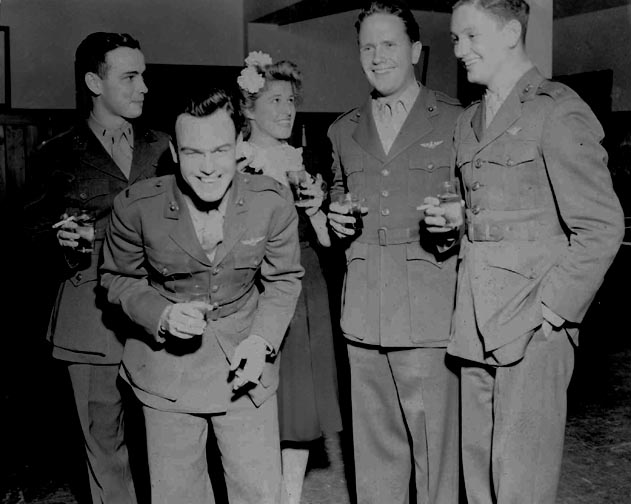 CHERRY POINT OFFICER'S CLUB: Pilots of VMB-613 socializing in the Officers' Club at Cherry Point in November or December of 1943. Those pictured are (L-R): First Lieutenant Robert A. Brueggestrass, First Lieutenant Edward A. Rogers, Mrs. James A. Cunningham, First Lieutenant James A. Cunningham, and First Lieutenant Eugene L. Amber.
Photograph: Marine Bombing Squadron Six-Thirteen (Courtesy of Robert A. Brueggestrass)
DOUGLAS R4D: R4D-4s were used to transport two sections of VMB-613's air echelon from Marine Corps Air Station Cherry Point, North Carolina to Naval Air Station (NAS) Fort Lauderdale, and then to NAS Boca Chica. This workhorse was the naval equivalent of the famed Douglas DC-3. With a range of 1,975 miles it could cruise at a leisurely speed of 117 knots (135 miles/hour).
Photograph: U.S. Navy Historical Archives